iF assists rear axles
18th April 1996
Page 20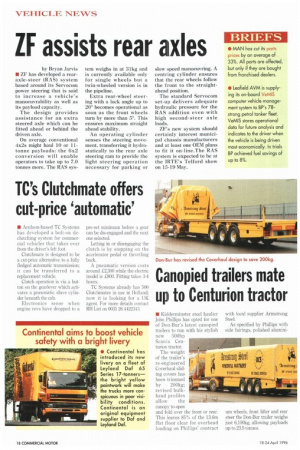 Page 20, 18th April 1996 —
iF assists rear axles
Close
by Bryan Jarvis • ZF has developed a rearaxle-steer (RAS) system based around its Servocom power steering that is said to increase a vehicle's manoeuvrability as well as its payload capacity.
The design provides assistance for an extra steered axle which can be fitted ahead or behind the driven axle.
On average conventional 4x2s might haul 10 or 11tonne payloads: the 6x2 conversion will enable operators to take up to 7.0 tonnes more. The RAS sys tern weighs in at 3114 and is currently available only for single wheels but a twin-wheeled version is in the pipeline.
Extra rear-wheel steering with a lock angle up to 20° becomes operational as soon as the front wheels turn by more than 50. This ensures maximum straight ahead stability.
An operating cylinder senses the steering movement, transferring it hydrostatically to the rear axle steering ram to provide the light steering operation necessary for parking or slow speed manoeuvring. A centring cylinder ensures that the rear wheels follow the front to the straightahead position.
The standard Servocom set-up delivers adequate hydraulic pressure for the RAS addition even with high second-steer axle loads.
ZF's new system should certainly interest municipal chassis manufacturers and at least one OEM plans to fit it on-line.The RAS system is expected to be at the IRTE's Telford show on 15-19 May.