Ford's Maverick goes into trade
18th April 1996
Page 18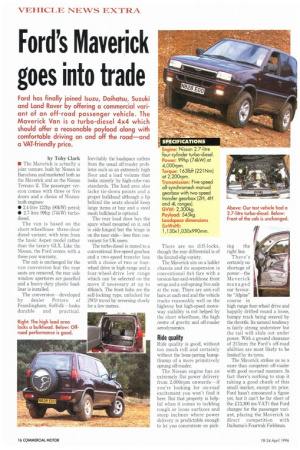 Page 18, 18th April 1996 —
Ford's Maverick goes into trade
Close
Ford has finally joined lsuzu, Daihatsu, Suzuki and Land Rover by offering a commercial variant of an off-road passenger vehicle. The Maverick Van is a turbo-diesel 4x4 which should offer a reasonable payload along with comfortable driving on and off the road—and a VAT-friendly price.
by Toby Clark • The Maverick is actually a joint venture, built by Nissan in Barcelona and marketed both as the Maverick and as the Nissan Terrano 11. The passenger version comes with three or five doors and a choice of Nissanbuilt engines: • 2.4-litre 122hp (90kW) petrol; • 2.7-litre 99hp (74kW) turbodiesel.
The van is based on the short-wheelbase three-door diesel variant, with trim from the basic Aspen model rather than the luxury GLX. Like the Nissan, the Ford comes with a three-year warranty.
The cab is unchanged for the van conversion but the rear seats are removed, the rear side window apertures are panelled and a heavy-duty plastic loadliner is installed.
The conversion—developed by dealer Potters of Framlingham, Suffolk—looks durable and practical. Inevitably the loadspace suffers from the usual off-roader problems such as an extremely high floor and a load volume that looks miserly by high-cube-van standards. The load area also lacks tie-down points and a proper bulkhead although a lip behind the seats should keep large items at bay and a steel mesh bulkhead is optional.
The rear load door has the spare wheel mounted on it, and is side-hinged but the hinge is on the near side—less than convenient for UK users.
The turbo-diesel is mated to a conventional five-speed gearbox and a two-speed transfer box with a choice of two or fourwheel drive in high range and a four-wheel-drive low range which can be selected on the move if necessary at up to 40km/h. The front hubs are the self-locking type, unlocked for 2WD travel by reversing slowly for a few metres.
There are no diff-locks, though the rear differential is of the limited-slip variety.
The Maverick sits on a ladder chassis and its suspension is conventional 4x4 fare with a torsion-bar-and-wishbone front setup and a coil-sprung live axle at the rear. There are anti-roll bats at each end and the vehicle tracks reasonably well on the highway but high-speed motorway stability is not helped by the short wheelbase, the high centre of gravity and off-roader aerodynamics.
Ride quality
Ride quality is good, without too much roll and certainly without the bone-jarring bumpthump of a more primitively sprung off-roader.
The Nissan engine has an extremely flat power delivery from 2,000rpm onwards—if you're looking for on-road excitement you won't find it here. But that property is helpful when it comes to tackling rough or loose surfaces and steep inclines where power delivery is predictable enough to let you concentrate on pick ing the right line.
There's certainly no shortage of power—the Maverick managed our favourite "Alpine" course in high range four-wheel drive and happily drifted round a loose, bumpy track being steered by the throttle. Its natural tendency is fairly strong understeer but the tail will slide out under power. With a ground clearance of 215mm the Ford's off-road abilities are most likely to be limited by its tyres.
The Maverick strikes us as a more than competent off-roader with good on-road manners. In fact there's nothing to stop it taking a good chunk of this small market. except its price. Ford hasn't announced a figure yet, but it can't be far short of the £13,300 (ex-VAT) that Ford charges for the passenger variant, placing the Maverick in direct competition with Daihatsu's Fourtmk Fieldman.