Owner-drivers lose NODA
18th April 1996
Page 15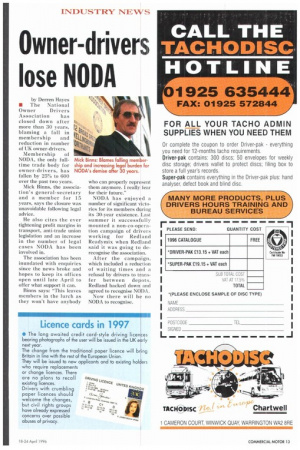 Page 15, 18th April 1996 —
Owner-drivers lose NODA
Close
by Derren Hayes • The National Owner Drivers Association has closed down after more than 30 years. blaming a fall in membership and reduction in number of UK owner-drivers.
Membership of NODA, the only fulltime trade body for owner-drivers, has fallen by 25% to 600 over the past two years.
Mick Binns, the association's general-secretary and a member for 15 years, says the closure was unavoidable following legal advice.
He also cites the ever tightening profit margins in transport, anti-trade union legislation and an increase in the number of legal cases NODA has been involved in.
The association has been inundated with enquiries since the news broke and hopes to keep its offices open until late April to offer what support it can.
Binns says: "This leaves members in the lurch as they won't have anybody who can properly represent them anymore. I really fear for their future."
NODA has enjoyed a number of significant victories for its members during its 30-year existence. I.ast summer it successfully mounted a non-co-operation campaign of drivers working for Redland Readymix when Redland said it was going to derecognise the association.
After the campaign, which included a reduction of waiting times and a refusal by drivers to transfer between depots, Redland backed down and agreed to recognise NODA.
Now there will be no NODA to recognise.