Labour plans for bans
18th April 1996
Page 14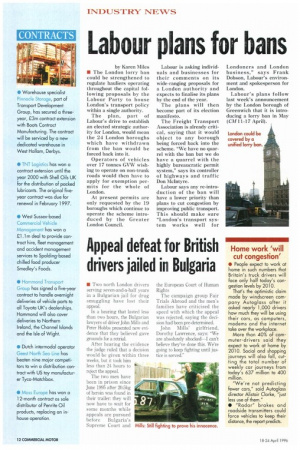 Page 14, 18th April 1996 —
Labour plans for bans
Close
by Karen Miles • The London lorry ban could be strengthened to regulate hauliers operating throughout the capital following proposals by the Labour Party to house London's transport policy within a single authority.
The plan, part of Labour's drive to establish an elected strategic authority for London, would mean the 24 London boroughs which have withdrawn from the ban would be forced back into it.
Operators of vehicles over 17 tonnes GVW wishing to operate on non-trunk roads would then have to apply for exemption permits for the whole of London.
At present permits are only requested by the 19 boroughs which continue to operate the scheme introduced by the Greater London Council. Labour is asking individuals and businesses for their comments on its wide-ranging proposals for a London authority and expects to finalise its plans by the end of the year.
The plans will then become part of its election manifesto.
The Freight Transport Association is already critical, saying that it would object to any borough being forced back into the scheme. "We have no quarrel with the ban but we do have a quarrel with the highly bureaucratic permit system," says its controller of highways and traffic Don McIntyre.
Labour says any re-introduction of the ban will have a lower priority than plans to cut congestion by improving public transport. This should make sure "London's transport system works well for Londoners and London business," says Frank Dobson, Labour's environment and spokesperson for London.
Labour's plans follow last week's announcement by the London borough of Greenwich that it is introducing a lorry ban in May (CM11-17 April).