Licence suspended after wheel found with loose nuts
17th October 2013
Page 9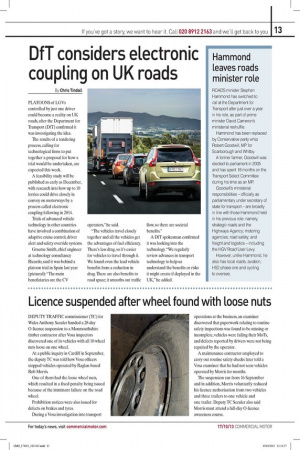 Page 9, 17th October 2013 —
Licence suspended after wheel found with loose nuts
Close
DEPUTY TRAFFIC commissioner (TC) for Wales Anthony Seculer handed a 28-day 0-licence suspension to a Monmouthshire timber contractor after Vosa inspectors discovered one of its vehicles with all 10 wheel nuts loose on one wheel.
At a public inquiry in Cardiff in September, the deputy TC was told how Vosa officers stopped vehicles operated by Raglan-based Rob Morris.
One of them had the loose wheel nuts, which resulted in a fixed penalty being issued because of the imminent failure on the road wheel.
Prohibition notices were also issued for defects on brakes and tyres. During a Vosa investigation into transport
operations at the business, an examiner discovered that paperwork relating to routine safety inspections was found to be missing or incomplete, vehicles were failing their MoTs, and defects reported by drivers were not being repaired by the operator.
A maintenance contractor employed to carry out routine safety checks later told a Vosa examiner that he had not seen vehicles operated by Morris for months.
The suspension ran from 16 September and in addition, Morris voluntarily reduced his licence authorisation from two vehicles and three trailers to one vehicle and one trailer. Deputy TC Seculer also said Morris must attend a full-day 0-licence awareness course.