DfT considers electronic coupling on UK roads
17th October 2013
Page 9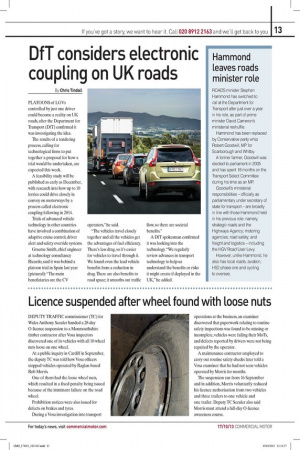 Page 9, 17th October 2013 —
DfT considers electronic coupling on UK roads
Close
By Chris Tindall
PLATOONS of LGVs controlled by just one driver could become a reality on UK roads, after the Department for Transport (DfT) confirmed it was investigating the idea.
The results of a tendering process, calling for technological firms to put together a proposal for how a trial would be undertaken, are expected this week.
A feasibility study will be published as early as December, with research into how up to 10 lorries could drive closely in convoy on motorways by a process called electronic coupling following in 2014.
Trials of advanced vehicle technology in other countries have involved a combination of adaptive cruise control, driver alert and safety override systems. Graeme Smith, chief engineer at technology consultancy Ricardo, said it was behind a platoon trial in Spain last year (pictured): "The main beneficiaries are the CV
operators," he said. "The vehicles travel closely together and all the vehicles get the advantages of fuel efficiency. There's less drag, so it's easier for vehicles to travel through it. We found even the lead vehicle benefits from a reduction in drag. There are also benefits to road space; it smooths out traffic
flow, so there are societal benefits."
A DfT spokesman confirmed it was looking into the technology. "We regularly review advances in transport technology to help us understand the benefits or risks it might create if deployed in the UK," he added.