HMRC stops Aggregates Levy tax exemptions
17th October 2013
Page 7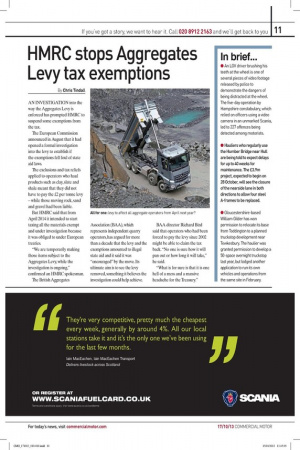 Page 7, 17th October 2013 —
HMRC stops Aggregates Levy tax exemptions
Close
By Chris Tindall
AN INVESTIGATION into the way the Aggregates Levy is enforced has prompted HMRC to suspend some exemptions from the tax.
The European Commission announced in August that it had opened a formal investigation into the levy to establish if the exemptions fell foul of state aid laws.
The exclusions and tax reliefs applied to operators who haul products such as clay, slate and shale meant that they did not have to pay the £2 per tonne levy — while those moving rock, sand and gravel had been liable.
But HMRC said that from April 2014 it intended to start taxing all the materials exempt and under investigation because it was obliged to under European treaties.
"We are temporarily making those items subject to the Aggregates Levy, while the investigation is ongoing," confirmed an HMRC spokesman. The British Aggregates
Association (BAA), which represents independent quarry operators, has argued for more than a decade that the levy and the exemptions amounted to illegal state aid and it said it was "encouraged" by the move. Its ultimate aim is to see the levy removed, something it believes the investigation could help achieve.
BAA director Richard Bird said that operators who had been forced to pay the levy since 2002 might be able to claim the tax back. "No one is sure how it will pan out or how long it will take," he said.
"What is for sure is that it is one hell of a mess and a massive headache for the Treasury."