RHA engages government over Driver CPC evolution
17th October 2013
Page 38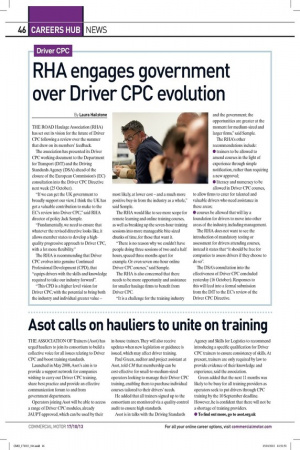 Page 38, 17th October 2013 —
RHA engages government over Driver CPC evolution
Close
By Laura Hailstone
THE ROAD Haulage Association (RHA) has set out its vision for the future of Driver CPC following a review over the summer that drew on its members' feedback.
The association has presented its Driver CPC working document to the Department for Transport (DfT) and the Driving Standards Agency (DSA) ahead of the closure of the European Commission's (EC) consultation into the Driver CPC Directive next week (25 October).
"If we can get the UK government to broadly support our view, I think the UK has got a valuable contribution to make to the EC's review into Driver CPC," said RHA director of policy Jack Semple.
"Fundamentally, we need to ensure that whatever the revised directive looks like, it allows member states to develop a highquality progressive approach to Driver CPC, with a lot more flexibility."
The RHA is recommending that Driver CPC evolves into genuine Continued Professional Development (CPD), that "equips drivers with the skills and knowledge required to take our industry forward". "This CPD is a higher level vision for Driver CPC, with the potential to bring both the industry and individual greater value —
most likely, at lower cost — and a much more positive buy-in from the industry as a whole," said Semple.
The RHA would like to see more scope for remote learning and online training courses, as well as breaking up the seven-hour training sessions into more manageable bite-sized chunks of time, for those that want it.
"There is no reason why we couldn't have people doing three sessions of two and a half hours, spaced three months apart for example. Or even seven one-hour online Driver CPC courses," said Semple.
The RHA is also concerned that there needs to be more opportunity and assistance for smaller haulage firms to benefit from Driver CPC. "It is a challenge for the training industry
and the government; the opportunities are greater at the moment for medium-sized and larger firms," said Semple. The RHA's other recommendations include: • trainers to be allowed to amend courses in the light of experience through simple notification, rather than requiring a new approval; • literacy and numeracy to be allowed in Driver CPC courses, to allow firms to cater for talented and valuable drivers who need assistance in these areas;
• courses be allowed that will lay a foundation for drivers to move into other areas of the industry, including management.
The RHA does not want to see the introduction of mandatory testing or assessment for drivers attending courses, instead it states that "it should be free for companies to assess drivers if they choose to do so".
The DSA's consultation into the effectiveness of Driver CPC concluded yesterday (16 October). Responses to this will feed into a formal submission from the DfT to the EC's review of the Driver CPC Directive.