Who is Matthew Seiber?
17th October 2013
Page 37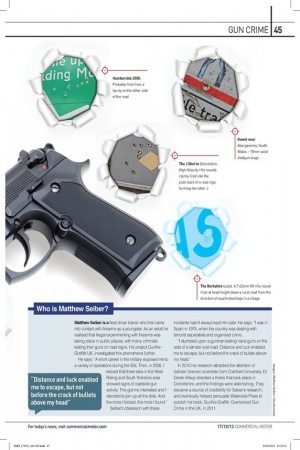 Page 37, 17th October 2013 —
Who is Matthew Seiber?
Close
Matthew Seiber is a fleet driver trainer who first came into contact with firearms as a youngster. As an adult he realised that illegal experimenting with firearms was taking place in public places, with many criminals testing their guns on road signs. His project Gunf ireGraff itti UK, investigated this phenomena further. He says: "A short career in the military exposed me to a variety of operations during the 80s. Then, in 2008, I noticed that three sites in the West
Riding and South Yorkshire area showed signs of roadside gun activity. This got me interested and I decided to join up all the dots. And the more I looked, the more I found." Seiber's obsession with these
incidents hasn't always kept him safe. He says: "I was in Spain in 1975, when the country was dealing with terrorist separatists and organised crime.
"I stumbled upon a gunman testing hand guns on the side of a remote rural road. Distance and luck enabled me to escape, but not before the crack of bullets above my head." In 2010 his research attracted the attention of ballistic forensic scientists from Cranfield University. Dr Derek Allsop directed a thesis that took place in Oxfordshire, and the findings were astonishing. They became a source of credibility for Seiber's research,
and eventually helped persuade Waterside Press to publish his book, Gunfire Graffiti: Overlooked Gun Crime in the UK, in 2011.