Shearer boss loses revocation appeal
17th October 2013
Page 19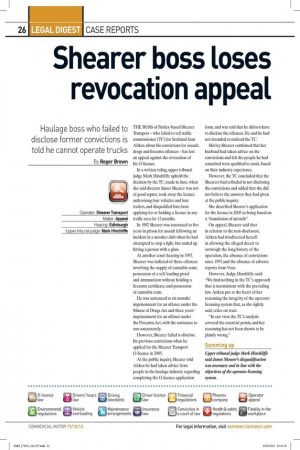 Page 19, 17th October 2013 —
Shearer boss loses revocation appeal
Close
Haulage boss who failed to disclose former convictions is told he cannot operate trucks By Roger Brown
THE BOSS of Paisley-based Shearer Transport — who failed to tell traffic commissioner (TC) for Scotland Joan Aitken about his convictions for assault, drugs and firearms offences — has lost an appeal against the revocation of his 0-licence.
In a written ruling, upper tribunal judge Mark Hinchliffe upheld the decision by the TC, made in June, when she said director James Shearer was not of good repute, took away the licence authorising four vehicles and four trailers, and disqualified him from applying for or holding a licence in any traffic area for 12 months.
In 1992 Shearer was sentenced to five years in prison for assault following an incident in a snooker club when he had attempted to stop a fight, but ended up hitting a person with a glass.
At another court hearing in 1997, Shearer was indicted of three offences involving the supply of cannabis resin; possession of a self-loading pistol and ammunition without holding a firearms certificate; and possession of cannabis resin.
He was sentenced to six months' imprisonment for an offence under the Misuse of Drugs Act and three years' imprisonment for an offence under the Firearms Act, with the sentences to run concurrently.
However, Shearer failed to disclose his previous convictions when he applied for the Shearer Transport 0-licence in 2005. At the public inquiry, Shearer told Aitken he had taken advice from people in the haulage industry regarding completing the 0-licence application
form, and was told that he did not have to disclose the offences. He said he had not intended to mislead the TC.
Shirley Shearer confirmed that her husband had taken advice on the convictions and felt the people he had consulted were qualified to assist, based on their industry experience.
However, the TC concluded that the Shearers had colluded in not disclosing the convictions and added that she did not believe the answers they had given at the public inquiry.
She described Shearer's application for the licence in 2005 as being based on a "foundation of untruth".
On appeal, Shearer said that in relation to the non-disclosure, Aitken had misdirected herself in allowing the alleged deceit to outweigh the long history of the operation, the absence of convictions since 1997, and the absence of adverse reports from Vosa.
However, Judge Hinchliffe said: "We find nothing in the TC's approach that is inconsistent with the prevailing law. Aitken put at the heart of her reasoning the integrity of the operator licensing system that, as she rightly said, relies on trust.
"In our view, the TC's analysis covered the essential points, and her reasoning has not been shown to be plainly wrong."
Summing up
Upper tribunal judge Mark Hinchliffe said James Shearer's disqualification was necessary and in line with the objectives of the operator licensing system.