A COMBINED HORSEBOX AND PANTECHNICON.
17th October 1922
Page 21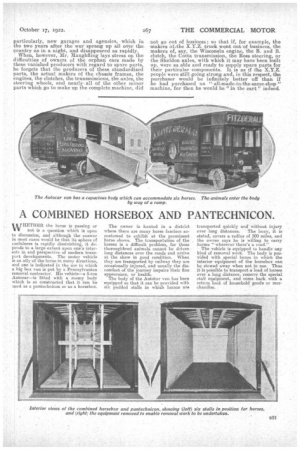 Page 21, 17th October 1922 —
A COMBINED HORSEBOX AND PANTECHNICON.
Close
WHETHER the horse is passing or not is a question which is open to discussion, and although the answer in most cases would be that its sphere of usefulness is rapidly diminishing, it depends to a large extent upon one's interests in and perspective of modern transvolt developments. The motor vehicle is an ally of the horse in many directions, and one is indicated in the use to which a big box van is put by a Pennsylvanian removal contractor. His vehicle—a 5-ton Autocar—is 'fitted with a roomy body Which is so constructed that it can be used as a pantechnicon or as a horsebox.
The owner is located in a district where there are many horse fanciers accustomed to exhibit at the prominent horse shows. The transportation of the horses is a difficult problem, for these thoroughbred animals cannot be driven long distances over the roads and arrive at the show in good condition. When they are transported by railway they are occasionally injured, and usually the discomfort of the journey impairs their fine appearance, or health.
The body of the Autcrear van has been equipped so that it can be provided with stx padded stalls in which horses are transported quickly and without injury over long distances. The lorry, it is stated, covers a radius of 500 miles, and the owner says he is willing to carry horses " wherever there's a road."
The vehicle is equipped to handle any kind of removal work. The body is provided with special boxes in which the interior •equipment of the horsebox can be stowed away when not in use. Thus it is possible to transport-a load of horses over a long distance, remove the special stall equipment, and come back with a return load of household goods or merchandise.