LESSONS FROM THE PARIS SHOW.
17th October 1922
Page 18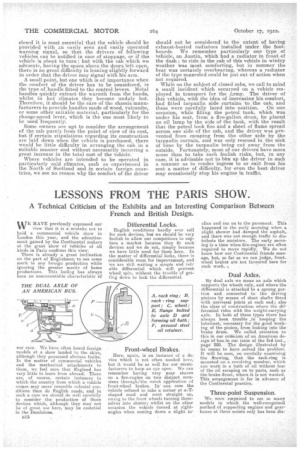 Page 19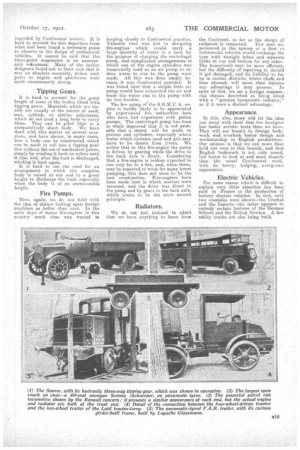 Page 18, 17th October 1922 —
LESSONS FROM THE PARIS SHOW.
Close
A Technical Criticism of the Exhibits and an Interesting Comparison Between French and British Design.
WE HAVE previously expressed our view that it is a mistake not to hold a commercial vehicle show in London this year, and the advertisement gained by the Continental makers at the great Show of vehicles of all kinds in Paris confirms this view.
There is already a great inclination on the part of Englishmen to -see some merit in any foreign production while ignoring the greater merits of home productions. This feeling has always been an unaccountable characteristic of
cur race. We have often heard foreign models at a show lauded to the -skies, although they possessed obvious faults. In the matter of commercial vehicles and the mechanical attachments to them, we feel sure that England has very little to learn from abroad. There are, of course, certain instances in which the country from which a vehicle comes may more resemble colonial conditions than do English roads, and in such a case we should do well carefully to consider the' production of those devices which, although they may not be of great use here, may be essential in the Dominion&
BIS
Differential Locks.
English conditionshardly ever call for such devices, but we should be very foolish to allow our competitors to capture a market because they fit such devices and we do not, simply because we have little need for them here. In the matter of differential locks, there is considerable room for improvement, and we are still waiting a simple and reliable differential which will prevent wheel spin, without the trouble of getting down to lock the differential.
Front-wheel Brakes.
Here, again, is an instance of a device which is not often needed hero, but it would be as well for our Manufacturers to keep an eye open. We can remember having very near shaves on a fire-engine on two distinct occasions througWthe nuick application of front-wheel brakes. In' one case the vehicle refused to take a corner at a.Tshaped road and werit straight op, owiag to the front wheels turning themselves into skates; whilst on the other occasion the vehicle turned at rightangles when coming down a slight hi
cline and ran on to the pavement. This happened in the early morning when a slight shower had damped the asphalt, and there was not enough traffic to distribute the moisture. The early morning is a time when fire-engines are often required to move rapidly. We do not know how our Continental friends manage, but, so far as we can judge, front wheelbrakes are not, favoured here for such work...
Dual Axles.
By dual axle we mean an axle which supports the wheels only, and where the differential is attached to a sprung portion and . connected to thedriving pinions by means of short shafts fitted with universal joints at each end; also the class of construction where the differential rides with the weight-carrying axle. In both of these types there has always been trouble ,in keeping the lubricant, necessary for the goad working of the pinion, from leaking into the brake drum. We called attention to this in our criteicism. of an American de sign of bus in our issue of the 3rd inst., page 200. The design illustrated by Us seems to have solved the problem. It will be seen, on carefully examining the &awing, that . the rack-ring is mounted on a .revolving member, which can work in a bath of oil without fear of the oil escaping on to parts, Buell as the brake drum, where it is not wanted. This arrangement is far in advance of the Continental practice.
Three-point Suspension.
We were surmised to see se many models in which the well-recognized method of supporting engines and gear boxes at three. points only has been •dis
regarded by .Continental makers. It is hard to account for this departure keen what had been found a necessary point to observe in the design of commercial vehicles, it cannot be said that the three-point suspension is an unnecessary reinement. Many of the earlier designers found out to their cost that it was an absolute necessity, unless such parts as engine and gearboxes were made unnecessarily strong.
Tipping Gears.
It is hard to account for the great length of some of the bodies fitted with tipping gears. Materials which are tipable are usually of the nature of sand, coal, rubbish, or similar substances, which do not need a long body to carry them. They can be piled high in a comparatively short body. We have dealt with this matter on several occa sions, and have shown, in many cases, how a body can be constructed which can he made to roll into a tipping position without the use of mechanical power, simply-by winding it back on rollers until it tips, and, after the load is discharged, winding it back again.
It is hard to 6,60 the need for an arrangement in which the complete body is raised at one end to a great height to discharge the load, especially when the body is of an unreasonable length.
Fire Pumps.
Here, again, we do not hold with the idea of lWays looking upon foreign machines as better than ours. In the early days of motor fire-engines 'in this country much time was wasted la
keeping closely to Continental practice. Valuable time was lost in designing fire-engines which would carry a large quantity of water in a tank for the purpose of charging the centrifugal pump, and complicated arrangements in which one of the engine cylinders was temporarily used as an air pump to hr duce water to rise to the pump were made. All this was done simply because it was Continental practice. It was found later that a simple little air pump would have exhausted the air and made the water rise to the pump with far less trouble.
The fire pump of the S.O.M.I.T.A. engine is -hardly likely to he appreciated by experienced fire authorities here who have had experience with piston pumps. The centrifugal pump has .been so much improved that it is not probable that a return will be made to pistons and cylinders, especially where water which contains sand and grit may have to be drawn from rivers. We notice that in this fire-engine the pump is driven bygearing while the drive to the hack axle is direct. Considering that a fire-engine is -seldom expected to run very far to a fire, and, when there, may be expected to work for many hours._ pumping, this does not seem to be the best construction. Fire-engines have been made here in which matters were reversed, and the drive was direct to the pump and by gears to the back axle, which seems to be the more correct principle.
Radiators.
We do not feel inclined to admit that we have anything to learn from the Continent, so far as the design of radiators is concerned. Few men ex. perienced in the upkeep of a fleet of commercial vehicles would exchange the typo with straight tubes and separate tanks at top and bottom for any other. The honeycomb may be more efficient, but the difficulty of repairing it, should it get damaged, and its liability to fur tip in certain districts, Where chalk and lime abound, will more than balance any advantage it may possess. In spite of this, we see a foreign commercial chassis described as being fitted with a "genuine honeycomb radiator," as if it were a distinct advantage.
Appearance.
In this, also, many will let the idea run away with them that the foreigner has better artistic taste than we have. They will see beauty in foreign bodywork and overlook better design and workmanship in English productions. Our opinion is that we can more than hold our own in this branch, and that English bodywork is not only sound, but better to look at and more shapely than the usual Continental work, with its heavy, bulging, , overgrown appearance.
Electric Vehicles.
For some reason which is difficult to explain very little attention has been paid in France to the production of battery electric vehicles. In fact, only two examples were shown—the Croehat and the Laporte—the latter appears to embody certain features of the German Scheele and the British Newton. A few utility trucks are also being built.