ONE HEARS
17th October 1918
Page 3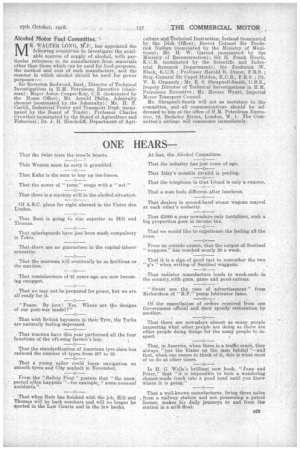 Page 3, 17th October 1918 —
ONE HEARS
Close
That the twist tests the tensile boasts_ That Weston must be sorry it grumbled.
That Kahn is the man to buy up inn-leases.
That the sower of "tares" reaps with a " net."
That there is a mystery still in the alcohol situation.
Of A.S.C. plans for eight abreast in the Unter den Linden.
• That Butt is going to rise superior to Hill and Thomas.
That splashguards have just been made compulsory in Tokio.
That-there are no guarantees in the capital-labour armistice.
That the maroons will eventually be as fictitious as the marine's.
That reminiscences of 21 years ago are now becoming rampant.
That we may not be prepared for peace, but we are all ready for it.
"Peace. By jove ! Yes. Where are the designs. of our post-war model ?'
That with British bayonets in their Tyre, the Turks are naturally feeling depressed.
That tractors have this year performed all the four functions of the oft-sung farmer's boy. • That the standardization of American tyre sizes has reduced the number of types from 287 to 32.
That a young sailor could learn navigation on smooth tyres and City asphalt in November.
From the "Safety First " posters that "the unexpected often happens "—for example, " some unusual accidents."
That when Butt has finished with the job, Hill and Thomas will be back numbers and will no longer be emoted in the Law Courts and in the law books. At last, the Alcohol Committee.
That the industry has just come of age, That Islay's notable invalid is peeling_ _ That the telephone in that Island is only a rumour. That a man feels different after luncheon.
That dealers in second-hand steam wagons marvel at each other's audacity.
That £3000 a year nowadays only tantalizes, such a . big proportion goes in income tax_ That we would like to experience the feeling all the saine.
From an outside source, that the output of Sentinel "waggons" has reached nearly 20 a week.
That it is a sign of good tact to remember the two " g's " when writing of Sentinel waggons.
That radiator manufacture leads to week-ends, in the country_with guns, game and good-rations.
"Sweet are the uses of advertisement" from Richardson of "R.P." Pump lubricator fame.
Of the cancellation of cirers received from one Government official and their speedy restoration by another.
That there are nowadays almost as many people inspecting what other people are doing as there are other people doing things for the many people to inspect.
• That, in America, when there is a traffic crash, they always_ "put the blame on the man behind "—and that; when one comes to think of it, this is what most of us do at other times.
In H. G. Wells's brilliant new book, "Joan and Peter," that " it is impossible to 'turn a wandering chance-made track into a good road until you know where it is going."
That a well-known manufacturer, living three miles from a railway otation and not possessing a petrol licence, makes his daily journeys to and from the station in a milk-float.