Beware pitfalls in skip operation
17th November 1978
Page 51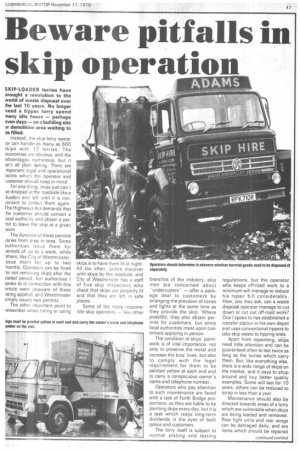 Page 52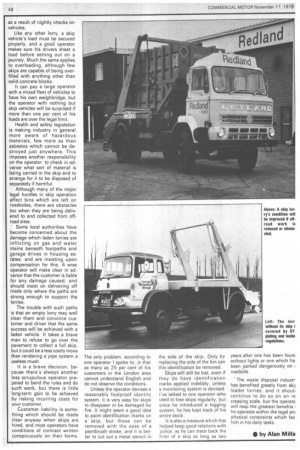 Page 51, 17th November 1978 —
Beware pitfalls in skip operation
Close
SKIP-LOADER lorries have brought a revolution to the world of waste disposal over the last 10 years. No longer need a tipper lorry spend many idle hours — perhaps even days — on a building site or demolition area waiting to be filled.
Instead, the skip lorry operator can handle as many as 600 skips with 12 lorries. The 3conomies are obvious, and the advantages numerous, but it sn't all plain sailing. There are mportant legal and operational Joints which the operator and ustomer should keep in mind.
For one thing. skips just can't De dropped at the roadside like a iustbin and left until it is con venient to collect them again. rhe Highways Act demands that
he customer should contact a ocal authority and obtain a per-nit .to leave the skip at a given joint.
The duration of these permits varies from area to area. Some authorities issue them for periods of up to a week, while 3thers, like City of Westminster, ssue them for up to two months. Operators can be fined For not removing skips after the stated period, but authorities I spoke to in connection with this 3rticle were unaware of these Deing applied, and Westminster simply issues new permits.
The other important point to • emember when hiring or using skips is to have them lit at night. All too often, police discover unlit skips by the roadside, and City of Westminster has a staff of five skip inspectors who check that skips are properly lit and that they are left in safe places.
Some of the more responsible skip operators --like other branches of the industry, skip men are concerned about "undercutters" — offer a package deal to customers by arranging the provision of cones and lights at the same time as they provide the skip. Where possible, they also obtain permits for customers, but some local authorities insist upon customers applying in person.
The condition of skips' paintwork is of vital importance, not only to preserve the metal and increase the bins' lives, but also to comply with the legal requirement for them to be painted yellow at each end and to carry a conspicuous owner's name and telephone number.
Operators who pay attention to such maintenance are faced with a task of Forth Bridge proportions, as they are liable to be painting skips every day, but it is a task which reaps long-term dividends in the eyes of both police and customers.
The lorry itself is subject to normal plating and testing regulations, but the operator who keeps off-road work to a minimum will manage to reduce his repair bill considerably. How, you may ask, can a waste disposal operator manage to cut down or cut out off-road work? One I spoke to has established a transfer station in his own depot and uses conventional tippers to take skip waste to tipping sites.
Apart from repainting, skips need little attention and can be guaranteed often to last twice as long as the lorries which carry them. But, like everything else, there is a wide range of skips on the market, and it pays to shop around and buy better quality examples. Some will last for 10 years, others can be reduced to scrap in less than a year.
Maintenance should also be directed towards areas of a lorry which are vulnerable when skips are being loaded and removed. Rear light units and rear wings can be damaged daily, and are items which should be repaired as a result of nightly checks on vehicles.
Like any other lorry, a skip vehicle's load must be secured properly, and a good operator makes sure his drivers sheet a load before setting out on a journey. Much the same applies to overloading, although few skips are capable of being overfilled with anything other than solid concrete blocks, It can pay a large operator with a mixed fleet of vehicles to have his own weighbridge, but the operator with nothing but skip vehicles will be surprised if more than one per cent of his loads are over the legal limit.
Health and safety legislation is making industry in general more aware of hazardous materials, few more so than asbestos which cannot be destroyed just anywhere. This imposes another responsibility on the operator: to check in advance what sort of material is being carried in the skip and to arrange for it to be disposed of separately if harmful.
Although many of the major legal hurdles in skip operation affect bins which are left on roadsides, there are obstacles too when they are being delivered to and collected from offroad sites.
Some local authorities have become concerned about the damage which laden lorries are inflicting on gas and water mains beneath footpaths and garage drives in housing estates, and are insisting upon compensation for this. A wise operator will make clear in advance that the customer is liable for any damage caused, and should insist on delivering off roads only where the paths are strong enough to support the lorries.
The trouble with such paths is that an empty lorry may well clear them and convince customer and driver that the same success will be achieved with a laden vehicle. It takes a brave man to refuse to go over the pavement to collect a full skip, but it could be a less costly move than rendering a pipe system a useless mush.
It is a brave decision, because there's always another less scrupulous operator prepared to bend the rules and do such work, but there is little long-term gain to be achieved by risking incurring costs for your customer.
Customer liability is something which should be made clear anyway when skips are hired, and most operators have conditions of contract written conspicuously on their forms. The only problem, according to one operator I spoke to, is that as many as 25 per cent of his customers in the London area cannot understand English and do not observe the conditions.
Unless the operator devises a reasonably foolproof identity system, it is very easy for skips to disappear or be damaged by fire. it might seem a good idea to paint identification marks on a skip, but these can be removed with the ease of a paintbrush stroke, and it is better to cut out a metal stencil in the side of the skip. Only by replacing the side of the bin can this identification be removed.
Skips will still be lost, even if they do have identification marks applied indelibly, unless a monitoring system is devised. I've talked to one operator who used to lose skips regularly, but since he introduced a logging system, he has kept track of his entire stock.
It is also a measure which has helped keep good relations with police, as he can trace back the hirer of a skip as long as two years after one has been founc without lights or one which ha been parked dangerously on ; roadside.
The waste disposal industr has benefited greatly from skil loader lorries, and it should continue to do so on an in creasing scale, but the operato will reap the greatest benefits i he operates within the legal ant physical constraints which fac him in his daily tasks.
• by Alan Milla