The Needs of Store Transport Departments
17th November 1933
Page 56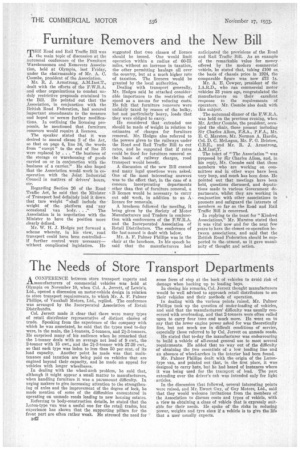 Page 56, 17th November 1933 —
The Needs of Store Transport Departments
Close
ACONFERENCE between store transport experts and manufacturers of commercial vehicles was held at Olympia on November 10, when Col. A. Jerrett, of Lewis's, Ltd., opened a discussion on motor-vehicle design in relation to store transport requirements, to which Mr. A. P. Palmer Phillips, of Vauxhall Motors, Ltd., replied. The conference was arranged by the Incorporated Association of Retail Distributdrs.
Col. Jerrett made it clear that there were many. types of retail distributor representative of distinct classes of trade. Speaking from the experience of the company with which he was associated, he said that the types used to-day were, in the main, the 1-tonners, 2-tonners, and 2i-3-tanners. He surprised many of his audience when he remarked that the 1-tonner deals with an average net load of 9 cwt., the 2-tonner with 15 ewt., and the 24-3-tonner with 27-29 cwt" so that each type was laden to less than 50 per cent, of its load capacity. Another point he made was that maintenance and taxation are being paid on vehicles that are engined beyond their capacity, and he made an appeal for vehicles with longer wheelbases.
In dealing with the wheel-arch problem, he said that, although it might appear a email matter to manufacturers, when handling furniture it was a pazamount difficulty. In urging makers to give increasing attention to the strengthen. lug of axles and the improvement of the degree of lock, he made mention of some of the difficulties encountered in operating on unmade roads leading to new housing estates. Referring to body-construction details, he stated that the Luton-type van was a useful one for the retail trades, but experience has shown that the supporting pillars for the front part are often rather weak. He stressed the need for 242 some form of stop at the back of vehicles to avoid risk of damage when backing up to loading bays.
In closing his remarks, Col. Jerrett thought manufacturers would be well advised to approach retail distributors to see their vehicles and their methods of operation.
In dealing with the various points raised, Mr. Palmer Phillips took up the question of under-loading of vehicles, and said that the manufacturers' difficulty was usually concerned with overloading, and that 2-tonners were often called upon to carry four tons and much more. He went on to say that the lower engine power asked for was theoretically fine, but not much use in difficult conditions of service, especially those referred to by Col. Jerrett on unmade roads.
He stated that to-day the manufacturer was endeavouring to build a vehicle of all-round general use to meet several requiraments. He added that no way out of the difficulty of obtaining the two essentials of a low loading line and an absence of wheel-arches in the interior had been found.
Mr. Palmer Phillips dealt with the origin of the Lutontype van, and pointed out that, in the first place, it was designed to carry hats, but he had heard of instances where it was being used for the transport of lead. The part extending over the driver's cab was intended only for light articles.
In the discussion that followed, several interesting points were raised, and Mr. Ewart Guy, of Guy Motors, Ltd., said that they would welcome invitations from the members of the Association to discuss costs and types of vehicle, with a view to obtaining a class, of vehicle that is expressly suitable for their needs. He spoke of the risks in reducing power, weights and tyre sizes if a vehicle is to give the life that a user usually expects.