NO. 5 COMMITTEE'S RECOMMENDATIONS ON FARES
17th November 1933
Page 52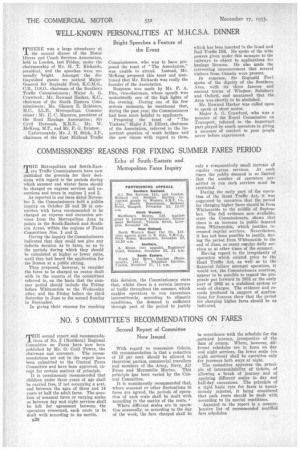 Page 52, 17th November 1933 —
NO. 5 COMMITTEE'S RECOMMENDATIONS ON FARES
Close
Second Report of Committee Now Issued TIIE second report and recommendations of No. 5 (Northern) Regional. Committee on Fares have now been published by Mr. 0. Cecil Poiver, the chairman and convener. The recommendations set out in the report have been submitted to t_he Central Fares Committee and have been approved, except for certain matters of principle.
It is unanimously recommended that children under three years of age shall be carried free, if not occupying a seat, and between the ages of three and 14 • years at half the adult fares. The question of seasonal fares or varying scales as between day and night services shall he left for agreement between the operators concerned, each route to be dealt with according to its merits.
1138 With regard to concession tickets, the recommendation is that a reduction of 15 per cent, should be allowed to theatrical parties, commercial travellers and members of the Army, Navy, Air Force and Mercantile Marine. This principle has been varied by the Central Committee.
It is unanimously recommended that, where seasonal or other fluctuations in fares are agreed, the periods of operation of each scale shall be dealt with according to the merits of the route. • Where different scales are in operation seasonally, or according to the day of the week, the fare charged shall be in accordance with the schedule for the outward journey, irrespective of the date of return. Where, however, different schedules are in force on day and night services, the lower scale (on n:ght services) shall be operative only for journeys both ways at night.
The committee approves the principle of interavailability of tickets, of allowing a break of journey and of applying different scales to day and half-day excursions. The principle of a rigid basic rate for fares is unanimously rejected, it being considered that each route should be dealt with according to its special conditions.
Annexed to the report is a comprehensive list of recommended modified fare schedules.