COMMISSIONERS' REASONS FOR FIXING SUMMER FARES PERIOD
17th November 1933
Page 52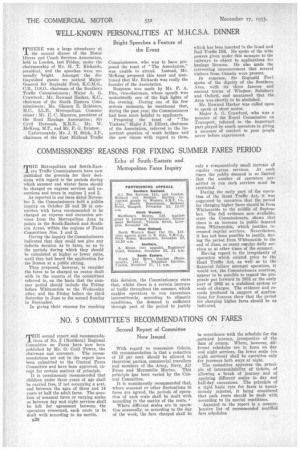 Page 52, 17th November 1933 —
COMMISSIONERS' REASONS FOR FIXING SUMMER FARES PERIOD
Close
Echo of South-Eastern and Metropolitan Fares Inquiry
MBE Metropolitan and Sotth-East1 ern Traffic Commissioners have now published the grounds for their decisions with regard to the periods during which summer and winter fares should be charged on express services and excursions and tours in regions 1 and 2.
As reported in our issue dated November 3, the Commissioners held a public& inquiry on October 25 and 26 in connection with fares recommended to be charged on express and excursion services from the Metropolitan Area to points in the South-Eastern and Southern Areas, within the regions of Fares Committees Nos. 1 and 2.
During the inquiry the Commissioners indicated that they could not give any definite decision as to fares, or as to the periods during which they should be calculated at higher or lower rates, until they had heard the application for the licence at a public sitting.
They proposed, however, to consider the fares to be charged on routes dealt with in the reports of the committees referred to, on the basis that the summer period should include the Friday before Whitsuntide to the Wednesday after, and the Friday before the third Saturday in June to the second Sunday in September.
In giving their reasons for reaching
this decision, the Commissioners state that, whilst there is a certain increase of traffic throughout the summer, which enables operators to run excursions intermittently, according to climatic conditions, the demand is sufficient through part of the period to justify
only a comparatively small increase of regular express services. At such times the public demand is so limited that the number of operators permitted to run such services must be restricted.
During the early part of the operation of the Road Traffic Act, it was suggested by operators that the period for charging higher fares should be from Whitsuntide to the middle of September. The full evidence now available, state the Commissioners, shows that there is an increase in public demand from Whitsuntide, which justifies increased regular services. Nevertheless, it has not been possible to justify, during the period from Whitsuntide to the end of June, so many regular daily services as at other times of the summer.
Having regard to the irregularity of operation which existed . prior to the Road Traffic Act, as well as to the financial failure amongst operators, it would not, the Commissioners continue, appear to be possible to regard the proposals put forward in 1931 or the early part of 1932 as a stabilized system or scale of charges. The evidence and records produced in support of applications for licences show that the period for charging higher fares should be as indicated.