SPRAY PAINTING GEAR
17th March 1967
Page 112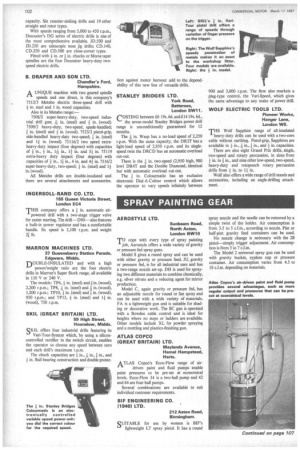 Page 117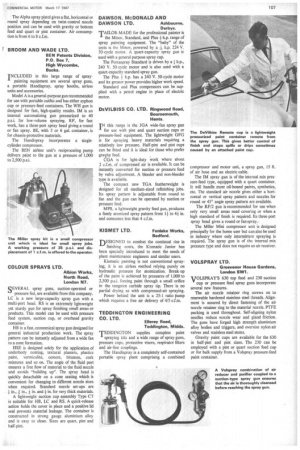 Page 112, 17th March 1967 —
SPRAY PAINTING GEAR
Close
AEROSTYLE LTD. Sunbeam Road, North Acton, London NW10
TO cope with every type of spray painting job, Aerostyle offers a wide variety of gravity or pressure-fed spray guns.
Model S gives a round spray and can be used with either gravity or pressure feed. JU, gravity or pressure fed, is for all industrial uses and has a two-range nozzle set-up. DH is used for spraying two different materials to combine chemically, e.g silver nitrate and a reducing agent for mirror production.
Model C, again gravity or pressure fed, has an adjustable nozzle for round or fan spray and can be used with a wide variety of materials. FA is a lightweight gun and is suitable for shading or decorative work. The BC gun is operated with a Bowden cable control and is ideal for heights where no steps or ladders are available. Other models include XL for powder spraying and a mottling and plastics-finishing gun.
ATLAS COPCO (GREAT BRITAIN) LTD.
Maylands Avenue, Hemel Hempstead, Herts.
ATLAS Copco's Ecco-Flow range of air
driven paint and fluid pumps enable paint pressures to be pre-set at economical levels, Ecco-Flow 34 is a two-ball pump and 42 and 64 are four-ball pumps.
Several combinations are available to suit individual customer requirements.
BIF ENGINEERING CO.
(1940) LTD. 212 Aston Road, Birmingham.
SUITABLE for use by women is BIF's lightweight LT spray pistol. It has a round spray nozzle and the needle can be removed by a simple twist of the holder. Air consumption is from 3.5 to 5 c.f.m., according to nozzle. Pint or half-pint gravity feed containers can be used.
No nozzle change is necessary with the 2B pistol—simply trigger adjustment. Air consumption is from 5 to 7 c.f.m.
The Model 2 universal spray gun can be used with gravity bucket, syphon cup or pressure container. Air consumption varies from 4.5 to 18 c.f.m. depending on materials. The Alpha spray pistol gives a flat, horizontal or round spray depending on twist-control nozzle position and can be used with gravity or bottom feed and quart or pint container. Air consumption is from 6 to 8 c.f.m.
BROOM AND WADE LTD. BEN Patents Division, P.O. Box 7, High Wycombe. Bucks.
INCLUDED in this large range of spray' painting equipment are several spray guns, a portable Handispray, spray booths, airless units and accessories.
Model A is a general-purpose gun recommended for use with portable outfits and has either syphon cup or pressure-feed containers. The WH gun is designed for fast, high-quality results. IM is an internal automatizing gun pressurized to 40 p.s.i. for low-volume spraying. RF, for fast work, has a three-port spray head giving a round or fan spray. BE, with 3 or 6 gal. container, is for chassis-protective materials.
The Handispray incorporates a singlecylinder compressor.
The BEN airless unit's reciprocating pump delivers paint to the gun at a pressure of 1,000 to 2,500 p.s.i.
COLOUR SPRAYS LTD.
Albion Works, North Road, London N7.
SEVERAL spray guns, suction-operated or
pressure fed, are available from this company. LC is a new large-capacity spray gun with a multi-port head. RS is an extremely lightweight yet sturdy gun for spray finishing small areas or products. This model can be used with pressure feed system, suction cup, or overhead gravity container.
I-IB is a fast, economical spray gun designed for general industrial production work. The spray pattern can be instantly adjusted from a wide fan to a cone formation.
HSE is designed solely for the application of underbody coating, textural plasters, plastics paint, vermiculite, cement, bitumen, cork mixtures and so on. The angle of the fluid port ensures a free flow of material to the fluid nozzle and avoids "building up". The spray head is quickly detachable on a cone seating which is convenient for changing to different nozzle sizes when required. Standard nozzle set-ups are in., a in., in. and + in. for very thick materials.
A lightweight suction cup assembly Type CT is suitable for HB, LC and RS. A quick-release action holds the cover in place and a positive lid seal prevents material leakage. The container is constructed in strong gauge aluminium alloy and is easy to clean. Sizes are quart, pint and half-pint.
DAWSON, McDONALD AND DAWSON LTD. Ashbourne, Derbys. TAILOR-MADE for the professional painter is the Minor, Standard, and Plus 4 h.p. range of spray painting equipment. The "baby" of the units is the Minor, powered by a k, h.p. 224 V. 50-cycle motor. A quart-capacity spray gun is used with a general purpose spray cap.
The Portaspray Standard is driven by a 4 h.p., 240 V. 50-cycle motor and is also used with a quart-capacity standard spray gun.
The Plus + h.p. has a 240 V. 50-cycle motor and its greater power provides higher work speed. Standard and Plus compressors can be supplied with a petrol engine in place of electric motor.
DEVILBISS CO. LTD. Ringwood Road, Bournemouth, Hants.
IN this range is the JGA wide-fan spray gun for use with pint and quart suction caps or pressure-feed equipment. The lightweight GFG is for spraying heavy materials requiring a relatively low pressure. Half-pint and pint cups can be fitted and it is ideal for those who prefer gravity feed.
CGA is for light-duty work where about 2 c.f.m. of compressed air is available. It can be instantly converted for suction or pressure feed by valve adjustment. A bleeder and non-bleeder type is available.
The compact new TGA featherweight is designed for all medium-sized refinishing jobs. Its spray pattern is adjustable from round to fan and the gun can be operated by suction or pressure feed.
MPS, a lightweight gravity feed gun, produces a finely atomized spray pattern from 11 to 44 in. and consumes less that 4 c.f.m.
KISMET LTD. Fenlake Works,
Bedford.
DESIGNED to combat the continual rise in
finishing costs, the Kismatic Junior has been specially introduced to meet the needs of plant maintenance engineers and similar users.
Kismatic painting is not conventional spraying; it is an airless method relying purely on hydraulic pressure for atomization. Break-up of the paint is achieved by pressures of 1,000 to 2,500 p.s.i. forcing paint through a small orifice in the tungsten carbide spray tip. There is no partial drying as with compressed-air spraying.
Power behind the unit is a 25:1 ratio bump which requires a free air delivery of 4/5 c.f.m.
TEDDINGTON ENGINEERING CO. LTD.
Elleray Road, Teddington, Middx.
TEDDINGTON supplies complete paint spraying kits and a wide range of spray guns, pressure cups, protective visors, respirator filters and air-line couplings.
The Handispray is a completely self-contained portable spray plant comprising a combined compressor and motor unit, a spray gun, 15 ft. of air hose and an electric cable.
The IM spray gun is of the internal mix pressure-feed type, equipped with a quart container. It will handle most oil-bound paints, synthetics, etc. The standard air nozzle gives either a horizontal or vertical spray pattern and nozzles for round or 45° angle spray pattern are available.
The RF/2 gun is recommended for use when only very small areas need covering or when a high standard of finish is required. Its three-port spray head gives a round or fan spray..
The Miller Mini compressor unit is designed principally for the home user but can also be used in industry where only intermittent spraying is required. The spray gun is of the internal mix pressure type and does not require an air receiver.
VOLSPRAY LTD,
Grosvenor House Gardens, London SW1.
VOLSPRAY'S 630 top feed and 230 suction cup or pressure feed spray guns incorporate several new features.
The air nozzle retainer ring screws on to renewable hardened stainless steel threads. Alignment is assured by direct fastening of the air nozzle retainer ring to the material nozzle. PTFE packing is used throughout. Self-aligning nylon needles reduce nozzle wear and gland friction. The guns have forged high strength aluminium alloy bodies and triggers, and oversize nylon air valves and stainless steel stems.
Gravity paint cups are available for the 630 in half-pint and pint sizes. The 230 can be employed with a pint or quart suction "feed cup or for bulk supply from a Volspray pressure-feed paint container.