Redex Oil Additive Stilt Available
17th March 1944
Page 41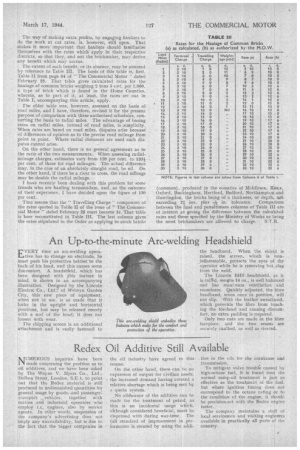 Page 41, 17th March 1944 —
Redex Oil Additive Stilt Available
Close
MUIVIEROUS inquiries have been
`4 made concerning the position as to oil additives, and we have been asked by The Wayne V. Myers Co., Ltd., Dolhen Street, London, B.E.1, to point out that the Redex material is still produced in undiminished quantities for general usage by goods-.and passenger= transport "vehicles, together with marine and industrial operators who employ i.e. engines, also by service agents. In other-words, suspension of the company's advertising does not imply any unavailability, that is due to the fact that the bigger companies in
the oil industry have agreed to this course; On the other hand, there can be no expansion of output for civilian needs, the increased demand having created a relative shortage which is being met by a quota system.
,No alldwance of the additive can be made for the treatment of petrol, as this is an incidental usage which, although considered beneficial, must be dispensed with .during war-time. The full standard of improvement in performance is secured by using the. addi
five in the oils for the crankcase and transmission.
To mitigate valve trouble caused by high-octane fuel, it is found that the normal sump-oil treatment is just as effective as the treatment of the fuel, but where ignition ;timing does not correspond to the octane rating or to the condition of the engine, it should be precision-set with the Redex engine tester, The company maintains a staff of local servicemen and visiting engineers. available in practically all parts of the country.