An Up-to-the-minute Arc-welding Headshield
17th March 1944
Page 41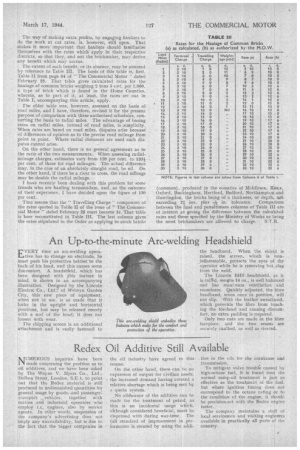 Page 41, 17th March 1944 —
An Up-to-the-minute Arc-welding Headshield
Close
EVERY time an arc-welding operative has to change an electrode, he must push his protective helmet to the back of his head, and -this causes some • discomfort. A headshield, which has been designed • with this feature in mind, is shown in an accompanying illustration. Designed by the Lincoln Electric Co., Ltd:, of Welwyn Garden City, this new piece of equipment, when not in use, is so made that it locks in the upright and horizontal positions, but may be released merely with a nod of. the head; it does not loosen with wear.
The chipping screen is. an additional attachment and is easily fastened to the headband. When the shield is raised, the screen, which is noninflammable, protects the eyes of the operator while he is 'removing hot slag from the weld.
The Lincoln BHS headshield, as it is calied, weighs 14 oz., is well balanced and has maxiaium ventilation and roominess. Quickly adjusted, the fibre headband, when once in position, will not slip. With the leather sweatband, which prevents the fibre from touching the forehead and causing discomfort, no extra padding is required.
Only two cuts are made in the fibre facepiece, arid the two seams are securely caulked, as well as riveted.