The Small Business v. The Combine
17th March 1944
Page 29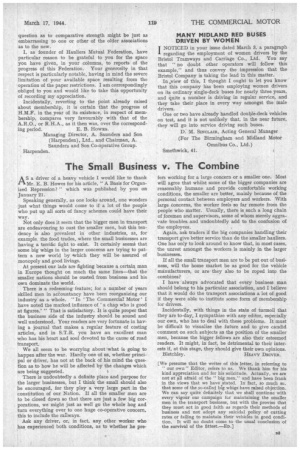 Page 29, 17th March 1944 —
The Small Business v. The Combine
Close
A S a driver of a heavy vehicle I would like to thank• Mr. E. B. Howes for his article, "A Basis for Organized Repression? " which was published by you on January 21.
Speaking generally, as one looks around, one wonders just what things would come to if a lot of the people who put up all sorts of fancy schemes could have their way.
Not only does it seem that the bigger men in transport are endeavouring to oust the smaller men, but this tendency is also prevalent in other industries, as, for example. the food trades, where the small businesses are having a terrific fight to exist. It certainly seemS that some big whigs in the larger concerns are trying to pattern a new world by +which they will be assured of monopoly and good livings.
At present our lads are fighting because a certain man in Europe thought on much the same lines—that the smaller nations should be ousted from business and his own dominate the world.
There is a redeeming feature; for a number of years skilled men in. accountancy have been reorganizing our industry as a whole. "In 'The Commercial Motor' I have noted the marked influence of a chap who is good at figures.' " That is satisfactory. It is quite proper that the business side of the industry should be sound and well understood. Your readers are very fortunate in having a journal that makes a regular feature of costing articles, and in S:T.R. you have an excellent man who has his heart and soul devoted to the cause of road transport.
We all seem to be worrying about what is going to happen after the war. Hardly one of us, whether principal or driver, has not at the back of his mind the question as to how he will be affected by the changes which are being suggested.
There is undoubtedly a definite place and purpose for the larger businesses, but I think the small should also be encouraged, for they play a very large part in the constitution of our Nation. If all the smaller men are to be closed down so that there are just a few big corporations, we might just as well go the whole hog and turn everything over to one huge co-operative concern, this to include the railways.
Ask any driver, or, in fact, any other worker who has experienced both conditions, as to whether he pre
fers working for a large concern or a smaller one. Most will agree that whilst some of the bigger companies are reasonably. humane and provide comfortable working conditions, the smaller are better, mainly because of the personal contact between employers and workers. With large Concerns, the worker feels so far remote from the people who matter. Usually, there is such a long chain of foremen and supervisors, some of whom merely aggravate troubles and undoubtedly add to the confusion of the employees.
• Again, ask traders if the big companies handling their transport give better service than do the smaller hauliers. One has only to look around to know that, in most oases, the unrest amongst the workers is mainly in the larger businesses.
If all the small transport men axe to be put out of business, will the home market be as good for the vehicle m6.nu1acturers, or are they also to be roped into the combines?
I have always advocated that every business man should belong to his particular association, and I believe that it would do the transport associations a lot of good. if they were able to. institute some form of membership for drivers.
• Incidentally, with things in the state of turmoil that they are to-day, I sympathize with any editor, especially our own, who has to deal with these problems. It must be difficult to visualize the future and to give candid comment on such subjects as the position of the smaller men, because the bigger fellows are alSo their esteemed readers. It might, in fact, be detrimental to their interests if, at this stage, they Should give their own opinions.
Bletchley. HEAVY DRIVER.
[We presume that the writer of this letter, in referring to "our own" Editor, refers to us. We thank him for his kind appreciation and for his solicitude. Actually, we are not at all afraid of the " big men," and have been frank in the views that we have stated. In fact, so much so, that some of the so-called big whigs have raised objection. We can say quite definitely that we shall continue with every vigour our campaign for maintaining the smaller men in the transport business, but with the proviso that they must act in good faith as regards their methods of business and not adopt any suicidal policy of cutting rates or failing to maintain their vehicles in good condition. It will no doubt come to the usual conclusion of the survival of the fittest.—En.]