Wetting Agent Improves P.S.V. Producer-gas Filtration
17th March 1944
Page 22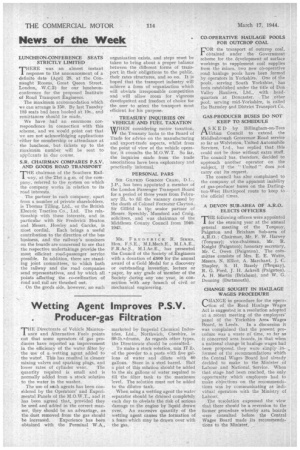 Page 22, 17th March 1944 —
Wetting Agent Improves P.S.V. Producer-gas Filtration
Close
THE Directorate of Vehicle Maintenance and Alternative Fuels points out that some operators of gas producers have reported am improvement in the efficiency of the water filter by the use of a wetting agent added to the water. This has resulted in cleaner mixing valves and sparking plugs, and lower rates of cylinder wear. • The quantity required is small and is normally added from a stock solution to the water in the washer.
The use of such agents has been donsidered by the Operators' and Experimental Panels of the M.O.W_Te, and it has been agreed that, provided they be used and added in the correct manner, they should be an advantage, as the dust removed from the gas should
be increased. Experience has been obtained with the Perrninal W.A.,
marketed by Imperial Chemical Industries, Ltd., NorthWich, Cheshire; in 60-1b.edrums. As regards other types, the Directorate should be consulted.
To make a stock solution, mix IT lb. of the powder to a paste with five gallons of water and dilute with 40. gallons. Store in a steel barrel. Half a pint of this solution should be added to the six gallons of water required to fill the filter tank to the maximum level. The solutiem must not be added to the dilutor tank.
When using a wetting agent the water separator should he drained completely each clay to Obviate the risk of serious damage to the engine by liquid drawn over. An excessive quantity of the wetting agent causes the formation of a foam which may be drawn over with the gas.