One Hears-
17th March 1944
Page 21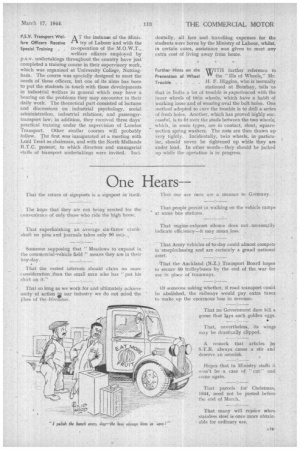 Page 21, 17th March 1944 —
One Hears-
Close
That the return of signposts is a signpost in itself: The hope that they are not being erected her the convenience of only those who ride the high horse.
That superftnishing an average six-threw clankshaft On pins and journals takes only 90 sees. ": Someone supposing that " Meadows to expand in the commercial-vehicle 'field " means they are in their hey-day. •
That the vested interests should claim no LY1QIC -consideration _than the small man who has "put his shirt on it."
That so long as we work for and ultimately achieve unity of action our industry we do not mind the jibes of the -frivolous.
That our ace men are.. a menace to Germany.:
That people persist in walking on the vehicle ramps at some bus stations. •
That engine.--exhaustsilence does not. necessarily indicate efficiency—it may :mean loss.
That Army vehicles of to-day could almost compete in steeplechasing and are certainly a grand national asset.
that the Auckland (N.Z.) Transport Board hopes to secure 50 trolleybuses by the end of the war for use In place of' tramways.
Of someone asking whether, if road transport could be abolished, the railways would pay extra taxes to make up the enormous loss in revenue.
That no Government dare kill a goose that hays such golden eggs.
That, nevertheless, its wings may be drastically clipped.
A remark that articles S.T.R. always cause a stir and deserve an asterisk.
Hopes that in Ministry staffs it won't be a case of" cut" and come again. _
That parcels forChristmas, 1944, need not be posted before the end' of March.
That many will rejoice when stainless steel is once more obtainable for ordinary use.