The Sleeping Giant
17th March 1944
Page 19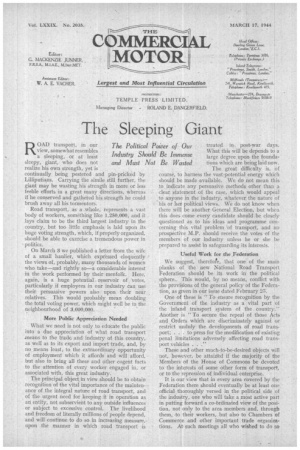 Page 20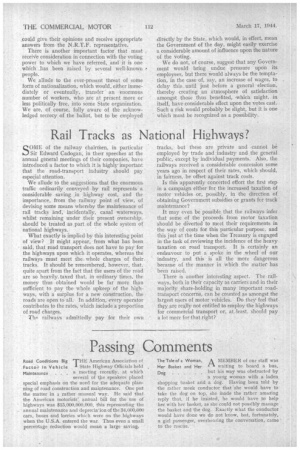 Page 19, 17th March 1944 —
The Sleeping Giant
Close
ROAD transport, in our view, somewhat resembles a sleeping, . or at least sleepy, giant, who does not realize his own strength, yet is continually being pestered and pin-pricked by Lilliputians. Carrying the simile still further, the giant may be wasting his strength in more or less feeble efforts in a great many directions, whereas if he conserved and gathered his strength he could brush away all his tormentors.
Road transport, as a whole, represents a vast body of workers, something like 1,250,000, and it lays claim to be the third largest industry in the country, but too little emphasis is laid upon its huge voting strength, which, if properly organized, should be able to exercise a tremendous power in politics.
On March 3 we published a letter from the wife of a small haulier, which expressed eloquently the views of, probably, many thousands of women who take—and rightly $o—a considerable interest in the work performed by their menfolk. Here, again, is a huge potential_ reservoir of votes, particularly if employees in our industry can use their persuasive powers also upon their near relatives. This would probably mean doubling the total voting power, which might well be in the neighbourhood of 3,000,000.
More Public Appreciation Needed What we need is not only to educate the public into a due appreciation of what road transport means to the trade. and industry of this country, as well as to its export and import -trade, and, by no, means least, to the extraordinary opportunity of employment which it affords and will afford, but also to bring all these and other cogent facts to the attention of every worker engaged in, or associated with, this great industry.
The principal object in view should be to obtain recognition of the vital importance of the maintenance of the integral nature of road transport, and of the urgent need for keeping it in operation as an entity, not subservient to any outside influences or subject to excessive control. The livelihood and freedom of literally millions of people depend, and will continue to do so in increasing measure,upon the manner in which road transport is treated in post-war days. What this will be depends to a large degree upon the foundations which are being laid now.
The great difficulty is, of course, to harness the vast potential energy which should be. made available. We do not mean this to indicate any persuasive methods other than a clear statement _of the case, which .would appeal to anyone in the industry, c'vhatever the nature of his or her political views. We do not know when there will be another General Election, but when this does come everycandidate should. be closely questioned as to hisideas and programme concerning this vital problem of transport, and no prospective M.P. should receive the votes of the members of our industry unless he or she be prepared to assist in safeguarding its interests.
Useful Work for the Federation We suggest, therefote, that one of the main planks of the new National Road Transport Federation should be its work in the political sphere._ This would, by no means, conflict with the provisions of the-general policy of the Federation, as given in our issue dated February 2$.
One of these is "To ensure recognition by the Government of the industry as a vital part of the inland transport "system of the country." Another is "To -secure the repeal of those Acts and Orders which are discriminately against. or restrict unduly the developments of road transport; . . . to press for the modification of *existing penal limitations adversely affecting road transport vehicles . . ."
These and other much-to-be-desired objects will not, however, be attained if the majority of the Members of the House of Commons be devoted to the interests of some other form of transport, or to the repression of individual enterprise.
It is our 'view that in every area covered by the Federation there should eventually be at least one official thoroughly versed in thepolitical side of the industry, one who will take a most active part in putting forward a co-brdinated view of the position, not only to the area members and, through them, to their workers, but also to Chambers of Commerce and other important trade organizations. At such meetings all who wished to do so ,could give their opinions and receive appropriate answers from the N.R.T.F. representative.
There is another •important factor that must receive consideration in connection with the voting power to which we have referred, and it is one which has . been raised by several well-known people.
We allude to the ever-present threat of some form of nationalization, which would, either imrne' diately or eventually, transfer an -enormous number of workers, who are at present more or less politically free, into some State organization. We are, of course, fully aware of the acknowledged secrecy of the ballot, but to be employed directly by the State, which would, in effect, mean the Government of the day, might easily exercise a considerable amount of influence upon the nature of the voting. We do not, of course, suggest that any Government would bring undue pressure upon its employees, but there would always be the temptation, in the case of, say, an increase of wages, to delay this., until just before a general election, thereby creating an atmosphere of satisfaction amongst . those thus benefited, 'which might, in itself, have considerable effect upon the votes cast. Such a risk would probably be slight, but it is onewhich must be recognized as a poSsibility.