Rail Tracks as National HiAways?
17th March 1944
Page 20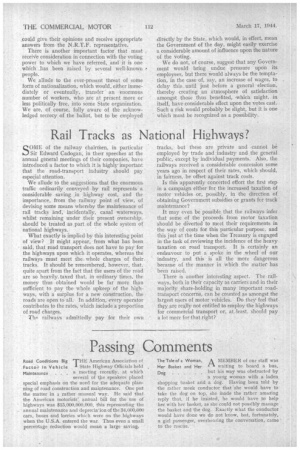 Page 20, 17th March 1944 —
Rail Tracks as National HiAways?
Close
QOME of the railway chairthen, in particular 0 Sir Edward Cadogan, in their speeches at the annual general meetings of their companies, have introduced a factor to which it is highly'important that the road-transport industry should pay especial attention.
• We allude to the suggestions that the enormous traffic ordinarily conveyed by rail represents a considerable saving in highway cost, and the importance, from the railway point of view, of devising some means whereby the maintenance of rail tracks -and; incidentally, canal waterways, whilst remaining under their present ownership, should be treated as part of the whole system of national highways.
What exactly is implied by this interesting point of view? It might appear, from what has been said, that road transport does not have to pay for the highways upon which it operates, whereas the railways must meet the. whole charges of their, tracks. It should be remembered, however, that, quite apart from the fact that the users of the road are so heavily, taxed that, in ordinary times, the money thus obtained would be far more than sufficient to pay the whole upkeep of the highways, with a surplus for a new construction, the roads are open to all: In addition, every operator contributes to the rates, which include a proportion of road charges.
The railways admittedly pay for their own tracks, bur these are private and cannot be employed by trade and industry and the general public, except by individual payments. Also, the railways received a considerable concession some years ago in respect of their rates, which should, in fairness, be offset against track costs.
Is this apparently concerted effort the first step in a campaign either for the increased taxation of motor vehicles or, possibly, in the direction of obtaining Government subsidies or grants for track maintenance?
It may even be possible that the railways infer that scrim of the proceeds from motor taxation should be diverted to meet their requirements in the way of costs for this particular purpose, and this just at the time when the Treasury is engaged in the task of reviewing the incidence of the heavy taxation on road transport. It is certainly an endeavour to put a spoke in the wheel of our industry, and this is all the more dangerous because of the manner in which the matter has been raised.
. There is another interesting aspect. The railways, both in their capacity as carriers and in their majority share-holding in many important roadtransport concerns, can be counted as amongst the larges't users of motor vehicles. Do they feel that they are really not entitled to employ the highways for commercial transport or, at least, Should pay a lot more for that right?