Meeting the Customers
17th June 1955
Page 56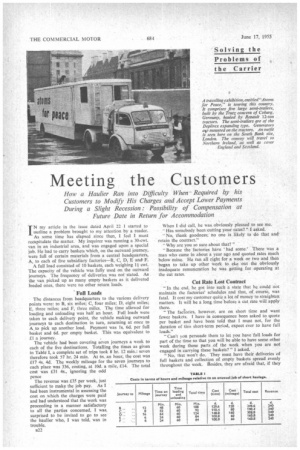 Page 59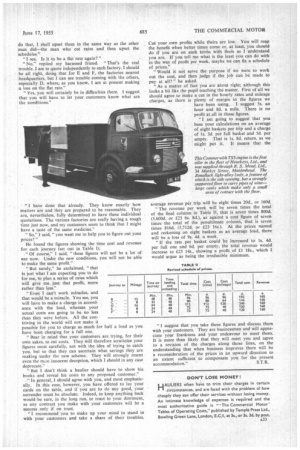 Page 56, 17th June 1955 —
Meeting the Customers
Close
How a Haulier Ran into Difficulty When• Required by his Customers to Modify His Charges and Accept Lower Payments During a Slight Recession : Possibility of Compensation at Future Date in Return for Accommodation
IN my article in the issue dated April 22 I started to outline a problem brought to my attention by a reader. As some time has elapsed since then, I feel I must recapitulate the matter. My inquirer was running a 30-cwt. van in an industrial area, and was engaged upon a special job. He had to carry baskets which, on the outward journey, were full of certain materials from a central headquarters, A, to each of five subsidiary factories—B, C, Di E and F.
A full load consisted of 10 baskets, each weighing cwt. The capacity of the vehicle was fully used on the outward journeys. The frequency of deliveries was not stated. As the van picked up as many empty baskets as it delivered loaded ones, there were no other return loads.
Full Loads The distances from headquarters to the various delivery points were: to B, six miles; C, four mites; D, eight miles; E, three miles; and F, three miles. The time allowed for loading and unloading was half an hod.. Full loads were taken to each delivery point, the vehicle making outward journeys to each destination in turn, returning at once to A, to pick up another load. Payment was Is. 6d. per full basket and 6d. per empty basket. This was equivalent to El a journey.
The vehicle had been covering seven journeys a week to each of the five destinations. Totalling the times as given in Table I, a complete set of trips took 8 hr. 12 min.: seven therefore took 57 hr. 24 min. At 6s. an hour, the cost was £17 4s. 4d. The weekly mileage for the seven journeys to each place was 336, costing, at 10d. a mile, £14. The total cost was £31 4s., ignoring the odd pence The revenue was £35 per week, just sufficient to make the job pay. As I had been instrumental in assessing the cost on which the charges were paid and had understood that the work was proceeding in a manner satisfactory to all the parties concerned, I was, surprised to be invited to go to see the haulier who, I was told, was in trouble.
822
When I did call, he was obviously pleased to see me.
" Has somebody been cutting your rates? " I asked.
" No, thank goodness; no one is likely to do that and retain the contract."
" Why are you so sure about that?"
"Because the factories have had some.' There was a man who came in about a year ago and quoted rates much below mine. He ran all right for a week or two and then began to take up other work to eke out the obviously inadequate remuneration he was getting for operating at the cut rates.
Cut Rate Lost Contract
"In the end, he got into such a state that he could not maintain the factories' schedules and that, of course, was fatal. It cost my customer quite a lot of money to straighten matters. It will be a long time 'before a cut rate will apply there.
"The factories, however, are on short time and want fewer baskets. I have in consequence been asked to quote per basket and have been told that I must not, for the duration of this short-term period, expect ever to have full loads."
"Can't you persuade them to let you have full loads for part of the time so that you will be able to have some other work during those parts of the week when you are not engaged in carrying these baskets?" I asked.
"No, that won't do. They must have their deliveries of full baskets and collection of empty baskets spread evenly throughout the week. esides, they are afraid that, if they do that, I shall upset them in the same way as the other man did—the man who cut rates and then upset the schedules."
"I see. Is it to be a flat rate again?"
"No," replied my harassed friend. " That's the real trouble. I am to quote independently to each factory. I should be all right,. doing that for E and F, the factories nearest headquarters, but I can see trouble coming with the others, especially D, where, as you know, I am at present making a loss on the flat rate."
"Yes, you will certainly be in difficulties there. I suggest that you will have to let your customers know what are the conditions."
"I have done that already. They know exactly how matters are and they are prepared to be reasonable. They are, nevertheless, fully determined to have these individual quotations. The various factories are really having a rough time just now, and my customers seem to think that I might have a taste of the same medicine."
"So," I said, "you want me to help you to figure out your prices?"
He found the figures showing the time cost and revenue for each journey (set out in Table I).
"Of course," I said, "these figures will not be a lot of use now. Under the new conditions, you will not be able to make the same profit."
"But surely," he exclaimed, "that is just what I am expecting you to do for me, to plan a series of rates which will give me just that profit, more rather than less."
"Even I can't work miracles, and that would be a miracle. You see, you will have to make a charge in accordance with the load, whereas your actual costs are going to be no less than they were before. All the con triving in the world will not make it possible for you to charge as much for half a load as you have been charging for a full one.
" Bear in mind that your customers are trying, for their own sakes, to cut costs. They will therefore scrutinize your figures most carefully, not with the idea of trying to catch you. but so that they can ascertain what savings they are making under the new scheme. They will strongly resent even the must innocent deception, which I should in any case deprecate."
"But I don't think a haulier should have to show his books and reveal his costs to any proposed customer."
"In general. I should agree with you, and most emphatically. In this case, however, you have offered to lay your cards on the table, and if you are to do any good, your surrender must be absolute. Indeed, to keep anything back would be sure, in the long run, to react to your detriment, as any contract you make with your customers will be a success only if on trust.
"I recommend you to make up your mind to stand in . with your customers and take a share of their troubles.
Cut your own profits while theirs are low. You will reap the benefit when better times come or, at least, you should do if you are on such tetrils with them as I understand you are. If you tell me ,what is the least you can do with • in the way of profit per week, maybe We can fix a schedule of prices."
"Would it not serve the purpose if we were to work out the cost, and then judge if the job can be made to pay at all?" he asked.
" As a matter of fact you are about right; although this looks a bit like the pupil teaching the master. First of all we should agree to Make a cut in the hourly rates and mileage charges, as there is plenty of margin in the figures we have been using. I suggest 5s. an hour and 8d. a mile. There is no profit at all in those figures.
"I am going to suggest that you base your calculations on an average of eight baskets per trip and a charge of Is. 3d. per full basket and 5d, per empty. That is Is. 8d. return, as we might put it. It means that the average revenue per trip will be eight times 20d., or 160d.
" The revenue per week will be seven times the total of the final column in Table II, that is seven times 800d. (5,600d. or £23 6s. 8d.), as against a cost figure of seven times the total of the penultimate column, that is seven times 816d. (5,7I2d. or £23 16s.). At the prices named and reckoning on eight baskets as an average load, there will be a loss of 9s. 4d. a week.
"If the rate per basket could be increased to Is. 4d. per full one and 6d. per empty, the total revenue would increase to £25 I4s., showing a profit of LI 18s., which I would argue as being the irreducible minimum.
" I suggest that you take these figures and discuss them with your customers. They are businessmen and will appreciate your frankness and your endeavour to meet them. It is more than likely that they will meet you and agree to a revision of the charges along those lines, on the understanding that when business improves there will be a reconsideration of the prices in an upward direction to an extent sufficient to compensate you for the present
accommodation." S.T.R.