Steam Steps Out
17th June 1955
Page 53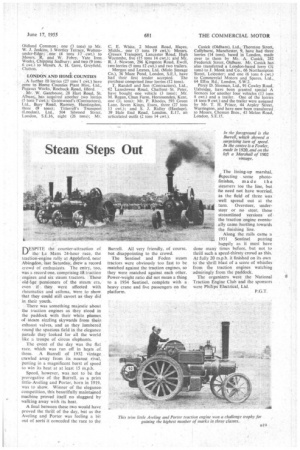 Page 53, 17th June 1955 —
Steam Steps Out
Close
DESPITE the counter-attraction of the Le Mans 24-hour race, the traction--engine rally at Appleford, near Abingdon, last Saturday, drew a record crowd of enthusiasts. The entry, too, was a record one, comprising IS traction engines and six steam tractors. These oldAge pensioners of the steam era, even if. they were affected with rheumatics and asthma, were to show that they could still cavort as they did in their youth.
There was something majestic about the traction engines as they stood in the paddock with their white plumes of steam sizzling skywards from their. exhaust valves, and as they lumbered round the spacious field in the elegance paratie they looked for all the world like a troupe of circus elephants.
The event of the day was the flat race. which was run off in heats of three. A Burrell of 1932 vintage crawled away from its nearest rival. putting in a magnificent burst of speed to win its heat at at least 15 m.p.h.
Speed, however, was not to be the prerogative of the Burrell, as a prim Aveling and Porter, born in 1919, was to show. Winner of the elegance. competition, this beautifully maintained machine proved itself no sluggard by walking away with its heat.
A final between these two would have proved the thrill of the day, but as the Aveling and Porter was feeling a bit out of sort i it conceded the race to the Burrell. All very friendly, of course, but disappointing to the crowd.
The Sentinel and Foden steam tractors were obviously too fast to be matched against the traction engines. so they were matched against each other. Power-weight ratio did not mean a thing to a 1934 Sentinel, complete with a heavy crane and live passengers on the platform. The lining-up marshal, Oxpecting some photo finishes, made t he steamers toe the line, but be need not have worried, as the field of three was well spread out at the turn. Oversteer, understeer or no steer, these streamlined versions of the traction engine eventually came hurtling towards the finishing line.
Along the rails came a 1931 Sentinel purring happily as it must have done many times before, but not to thrill such a speed-thirsty crowd as this. At fully 20 m.p.h. it finished on its own to' the shrill blast of a score of whistles from the traction engines watching admiringly from the paddock.
The organizers were the National Traction Engine Club and the sponsors were Philips Electrical, Ltd.
P.G.T.