Opinions and Queries
17th June 1955
Page 41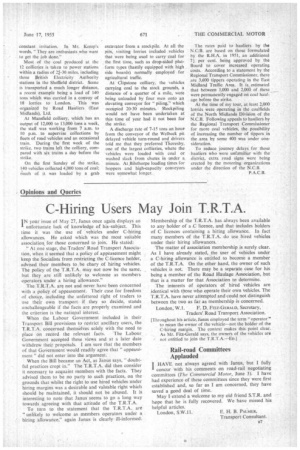 Page 41, 17th June 1955 —
Opinions and Queries
Close
C-Hiring Users May Join T.R.T.A.
IN your issue of May 27, Janus once again displays an A unfortunate lack of knowledge of his-subject. This time it was the use of vehicles under C-hiring allowances. He asked which was the most suitable association for those concerned to join. He stated: " At one stage, the Traders' Road Transport Association, when it seemed that a policy of appeasement might keep the Socialists from restricting the C-licence holder, advised their members to be chary of hiring vehicles. The policy of the T.R.T.A. may not now be the same. but they are still unlikely to welcome as members operators under a hiring allowance."
The T.R.T.A. are not and never have been concerned with a policy of appeasement. Their case for freedom of choice, including the unfettered right of traders to use their own transport if they so decide, stands unchallengcable if the facts are properly examined and the criterion is the national interest.
When the Labour Government included in their Transport Bill provisions to restrict ancillary users, the T.R.T.A. concerned themselves solely with the need to
place on record the relevant facts. The Labour Government accepted these views and at a later date withdrew their proposals. I am sure that the members of that Government would readily agree that " appeasement " did not enter into the argument.
When the Bill became an Act, as Janus says, "doubtful practices crept in." The T.R.T.A. did then consider it necessary to acquaint members with the facts. They advised them to be no party to such practices, on the grounds that whilst the right to use hired vehicles under hiring margins was a desirable and valuable right which should be maintained, it should not be abused. It is interesting to note that Janus seems to go a long way towards agreeing with that attitude of the T.R.T.A.
To turn to the statement that the T.R.T.A. are "unlikely to welcome as members operators under a hiring allowance," again Janus is clearly ill-informed. Membership of the T.R.T.A. has always been available to any holder of a C licence, and that includes holders of C licences containing a hiring allowance. In fact many members of the T.R.T.A. do use hired vehicles under their hiring allowances.
The matter of association membership is surely clear. As 1 have already stated, the user of vehicles under a C-hiring allowance is entitled to become a member of the T.R.T.A. On the other hand, the owner of such vehicles is not. There may be a separate case for his being a member of the Road Haulage Association, but that is a matter for that Association to determine.
The interests of operators of hired vehicles are identical with those who operate their own vehicles. The T.R.T.A. have never attempted and could not distinguish between the two as far as membership is concerned.
London, W.1. F. D. Frrz-GERALD, Secretary, Traders' Road Transport Association. [Throughout his article, Janus employed the term "operator " to mean the owner of the vehicle—not the holder of the C-hiring margin. The context makes this point clear. As Mr. Fitz-Gerald says, the owners of the vehicles are
• not entitled to join the T.R.T.A.—ED.]
Rail-road Committees Applauded
I HAVE not always agreed with Janus, but I fully concur with his comments on road-rail negotiating committees (The Commercial Motor, June 3). I have had experience of these committees since they were first established and, so far as I am concerned, they have saved a good deal of time.
May I extend a welcome to my old friend S.T.R. and hope that he is fully recovered. We have missed his helpful articles.
London, S.W.11.
E. H. B. PALMER, Transport Consultant.