"Lorry Driver of the E50m. Promised but Year" Contest £750,000
17th June 1955
Page 38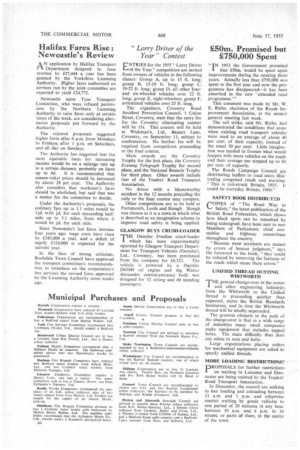 Page 38, 17th June 1955 —
"Lorry Driver of the E50m. Promised but Year" Contest £750,000
Close
Spent ENTRIES for the 1955 " Lorry Driver of the Year competition are invited from owners of vehicles in the following classes: Group A, up to 15 ft. long; group B, 15-19 ft. long; group C, 19-22 ft. long; group D, all other fourand six-wheeled vehicles over 22 ft. long; group E, eight-wheelers; group F, articulated vehicles over 25 ft. long.
The organizers, Coventry Road Accident Prevention Council, 1 Union Street, Coventry, state that the entry fee for the Coventry eliminating contest will be 15s. This contest will be held at Wickman's, Ltd.. Banner Lane. Coventry, on September 11, subject to confirmation. No further fee will be required from competitors proceeding to the final contest.
Main awards are the Coventry Trophy for the first place, the Coventry Evening Telegraph Trophy for second place, and the National Benzole Trophy for third place. Other awards include that of the Traders' Road Transport Association.
No driver with a blameworthy accident in the 12 months preceding the rally or the final contest may compete.
Other competitions are to be held at Portsmouth, Leeds and Slough. Slough was chosen as it is a town in which what is described as an imaginative scheme to improve road safety is being applied.
GLASGOW BUYS CRUSH-LOADER
THE Daimler Freeline crush-loader which has been experimentally operated by Glasgow Transport Department for Transport Vehicles (Daimler), Ltd.. Coventry. has been purchased
from the company for £4,332. The vehicle is powered by a Daimler D650H oil engine and the Walter Alexander central-entrance body was designed for 32 sitting and 40 standing passengers.