Halifax Fares Rise : Newcastle's Review
17th June 1955
Page 38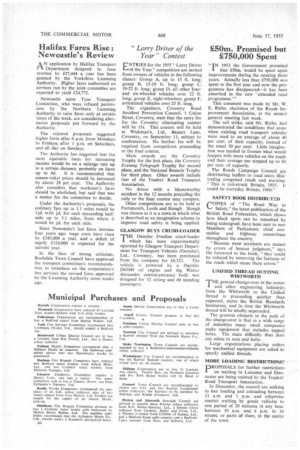 Page 38, 17th June 1955 —
Halifax Fares Rise : Newcastle's Review
Close
AN application by Halifax Transport Department designed to raise revenue by £27,444 a year has been granted by the Yorkshire Licensing Authority. Higher fares authorized on services run by the joint committee are expected to yield £24,772.
Newcastle upon Tyne Transport Committee, who were refused permission by the Northern Licensing Authority to raise fares only at certain times of the week, are considering alternative proposals put forward by the Authority.
The rejected proposals suggested higher fares after 6 p.m. from Mondays to Fridays' after 1 p.m. on Saturdays, and all day on Sundays.
The Authority has suggested that the most equitable basis for increasing income would be on a mileage rate up to a certain distance, probably on fares
up to 44:1. It is recommended that season-ticket prices should be increased by about 28 per cent. The Authority also considers that workmen's fares should be aborished, but said that was a matter for the committee to decide.
Under the Authority's proposals, the ordinary fare up to 1.1 miles would be lid. with id. for each succeeding halfmile up to 3.1 miles. from where it would be id. for each mile.
Since Newcastle's last fares increase four years ago, wage costs have risen by £245,000 a year, and a deficit of nearly £124,000 is expected for the current year.
In the face of strong criticism, Rochdale Town Council have approved the transport committee's recommendation to introduce on the corporation's bus services the revised fares approved by the Licensing Authority some weeks ago.