" IN 1953 the Government promised that £50m. would be
17th June 1955
Page 38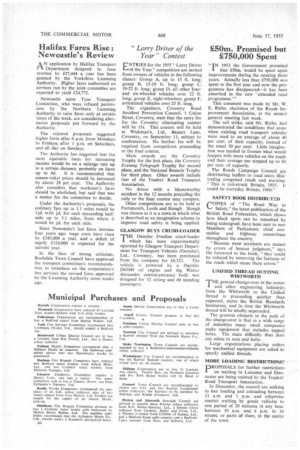 Page 38, 17th June 1955 —
" IN 1953 the Government promised that £50m. would be
Close
spent upon improvements during the ensuing three years. Actually less than £750,000 was spent in the first year and now the programme has disappeared—it has been absorbed in the new extended road programme.'" This comment was made by Mr. W. E. Riche, chairman of the Roads Improvement Association, at the annual general meeting last week.
The rail strike, said Mr. Riche, had demonstrated the conditions that arose when existing road transport vehicles were used to an average of about 40 per cent, of their capacity, instead ot the usual 30 per cent. Little imagination was needed to foresee what would happen with more vehicles on the roads and their average use stepped up to 60. per cent. of capacity.
The Roads Campaign Council are distributing leaflets to road users illustrating congested roads and warning: "This is rail-struck Britain, 1955. It could be everyday Britain, 1960,"
SAFETY BOOK DISTRIBUTED rOPIES of "The Road Way to Safety," the latest publication of the British Road Federation, which shows how black spots can be remedied by being redesigned, have been sent to new Members of Parliament, chief constables and highway committees throughout the country.
"Because most accidents are caused by errors of human judgment," says the foreword to the book, "they could be reduced by removing the features of the roads which cause these errors."
UNIFIED THREAD OUSTING WHIT WORTH
THE general change-over in the motor and other engineering industries from the Whitworth to the Unified thread is proceeding quicker than expected, states the British Standards Institution, and in time the Whitworth thread will be wholly superseded.
The greatest obstacle in the path of the change-over is that in a wide range of industries many small companies make equipment that includes tapped holes, The main difficulty thus does not relate to nuts and bolts.
Large organizations placing orders for mechanical equipment arc asked to specify unified threads.
MORE LOADING RESTRICTIONS?
PROPOSALS for further restrictions on waiting in Leicester and Doncaster are being resisted by the Traders' Road Transport Association.
In Doncaster, the council are seeking to ban loading and unloading between 11 a.m. and 1 p.m. and otherwise restrict waiting by goods vehicles to one period of 20 minutes in any hour between 10 a.m. and 6 p.m. in 16 streets, or parts of them, in the centre of the town.