More Swedish Units Being Turbo-blown
17th June 1955
Page 37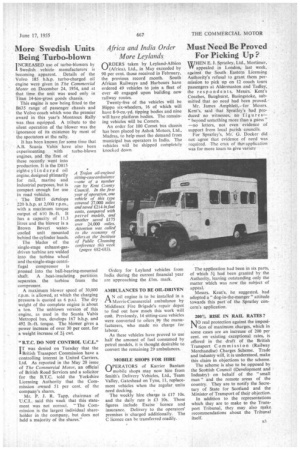 Page 37, 17th June 1955 —
More Swedish Units Being Turbo-blown
Close
INCREASED use of turbo-blowers by 11 Swedish vehicle manufacturers is becoming apparent. Details of the Volvo 185 b.h.p. turbo-charged oil engine were given in The Commercial Motor on December 24, 1954, and at that time the unit was used only in Titan 14-ton-gross goods chassis.
This engine is now being fitted to the B635 range of passenger chassis and the Volvo coach which won the premier award in this year's Montreux Rally was thus equipped. A tribute to the silent operation of the blower was the ignorance of its existence by most of the spectators at the rally.
It has been known for some time that A.R. Scania Vabis have also been experimenting with turbo-blown engines, and the first of these recently went into production. It is the D8I5 eight-cylindered oil engine, designed erintarily for rail, marine and industrial purposes, but is compact enough for use in road vehicles.
The D815 detrelops 220 b.h.p. at 2,000 r.p.m., with a maximum torque output of 610 lb.-ft. It has a capacity of 11.3 litres and the blower is a Brown Boveri watercooled unit mounted behind the cylinder heads.
The blades of the single-stage exhaust-gasdriven turbine are welded into the turbine wheel and the single-stage centrifugal compressor is pressed into the ball-bearing-mounted shaft. A heat-insulating partition separates the turbine from the compressor.
A maximum blower speed of 30,000 r.p.m. is allowed, at which the charging pressure is quoted as 6 p.s.i. The dry weight of the complete engine is about a ton. The ttnblown version of this engine, as used in the Scania Vabis Metropol bus, develops 167 b.h.p. and 492 lb.-ft. torque. The blower gives a power increase of over 30 per cent, for a weight increase of 23 cwt.
•
A Trojan oil-engined sitting-caseanthulance —one of a number run by Kent County Council. In the first year of operation, one vehicle of this type covered 27,000 miles and saved £214 in fuel costs, compared with petrol models, and another saved £175 over 24,000 miles. Attention was called to the economy of oilers at the Institute of Public Cleansing conference this week (pages 682-683).
" B.T.C. DO NOT CONTROL U.C.L."
IT was denied on Tuesday that the British Transport Commission have a controlling interest in United Carriers, Ltd. As reported in the May 20 issue of The Commercial Motor, an official of British Road Services and a solicitor for the B.T.C. told the Yorkshire Licensing Authority that the Commission owned 51 per cent, of the company's shares.
Mr. P. J. R. Tapp. chairman of U.C.L. said this week that this statement was not correct. "The Commission is the largest individual shareholder in the company, but does not held a majority of the shares."