More Bulk Milk • Collection .
17th June 1955
Page 36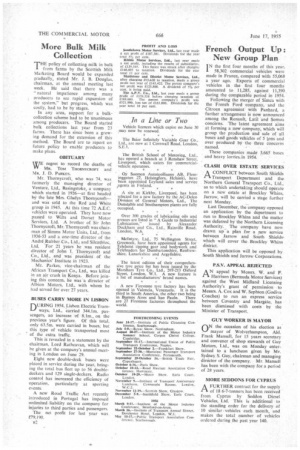 Page 36, 17th June 1955 —
More Bulk Milk • Collection .
Close
THE policy of collecting milk in bulk from farms by the Scottish Milk Marketing Board would be expanded gradually, stated Mr. J. B. Douglas, chairman, at the annual meeting last week. He said that there was a
natural impatience among many producers to see rapid expansion of the system," but progress, which was costly, had to be by stages.
In any area, support for a bulkcollection scheme had to be unanimous among producers. The Board started bulk collections last year from 23 farms. There has since been a growing demand for the extension of this method. The Board are to report on future policy to enable producers to make plans.
OBITUARY
WE regret to record the deaths of MR. Tom THORNYCROFT and MR. J. D. PARKES.
Mr. Thornycroft, who was 74, was formerly the managing director of Venture, Ltd., Basingstoke, a company which started in 1926—at first headed by the late Mrs. Gladys Thornycroftand was sold to the Red and White group in 1945. At this time 72 A.E.C. vehicles were operated. They have now passed to Wilts and Dorset Motor Services, Ltd. A brother of Sir John Thornycroft, Mr. Thornycroft was chairman of Simms Motor Units, Ltd., from 1936-53 and a one-time director of the Andre Rubber Co., Ltd.; and Silentbloc, Ltd. For 21 years he was resident director of John 11. Thornycroft and Co., Ltd., and was president of the Mechanics' Institute in 1923.
Mr. Parkes, vice-chairman of the African Transport Co., Ltd., was killed in an air crash in Kenya. Before joining this concern, he was a director of Albion Motors, Ltd., with whom he had served for over 27 years.
BUSES CARRY MORE IN LISBON
DURING 1954, Lisbon Electric Tramways, Ltd., carried 344.1m, passengers, an increase of 8.1m., on the previous year's figure. Of this total, only 63.5m. were carried in buses, but this type of vehicle transported most of the extra traffic.
This is revealed in a statement by the chairman, Lord Rathcavan, which will he given at the company's annual•meeting in London on June 29.
Eight new double-deck buses were placed in service during the year, bringing the total bus fleet up to 56 doubledeckers and 129 single-deckers, Radio control has increased the efficiency of operation, particularly at sporting events.
A new Road Traffic Act recently introduced in Portugal has imposed unlimited, liability on the company for injuries to third parties and passengers.
The net profit for last year was £79.190, a2