In a Line or Two
17th June 1955
Page 36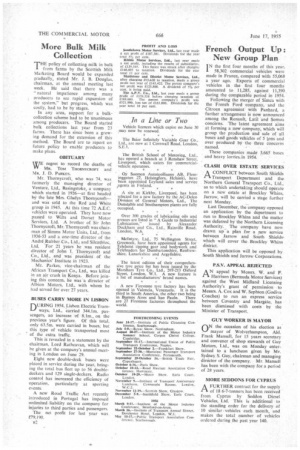 Page 36, 17th June 1955 —
In a Line or Two
Close
Vehicle licences which expire on June 30 may now be renewed.
The Beier Infinitely Variable Gear Co., Ltd., are now at 1 Cornwall Road. London, S.E.I.
The British School of Motoring. Ltd., hai opened a branch at 3 Renshaw Street, Liverpool, which caters for commercialvehicle operators.
Oy Suouten Autoteollisuus AB, Fleminggatan 27, Helsingfors. Helsinki, have been appointed Leyland sales and service tagents in Finland.
A site at Kirkby, Liverpool, has been selected for a new factory by the AC-Delco Division of General Motors, Ltd., The Dunstable and Southampton plants are fully occupied.
Over 300 grades of lubricating oils and greases are listed in "A Guide to Industrial Lubrication," issued by Alexander Duckham and Co., Ltd.. Rainville Road. London, W.6.
McIntyre, Ltd.. 75 Wellington Street, Greenock, have been appointed agents for Telehoist tipping gear and bodywork and Teleloaders for Dumbartonshire, Renfrewshire, Lanarkshire and Argyllshire.
The latest edition of their comprehensive tyre price list has been issued by the Marsham 'Tyre Co., Ltd., 207-213 Oxford Street, London, W.I. A new feature is a 'list of manufacturers' brand names.
A new Firestone tyre factory has been opened in Valencia, Venezuela. It is the third in South America, the other two being in Buenos Aires and Sao Paulo. There are 27 Firestone factories throughout the world.