French Output Up: New Group Plan
17th June 1955
Page 36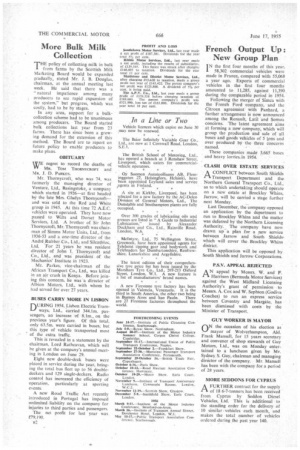 Page 36, 17th June 1955 —
French Output Up: New Group Plan
Close
I N the first four months of this year.
58,302 commercial vehicles were made in France, compared with 55,068 a year ago. Exports of commercial vehicles in the first four months amounted to 11,285, against 11,390 during the comparable period in 1954.
Following the merger of Simca with the French Ford company, and the Citroen agreement with Panhard, further arrangement is now announced among the Renault, Latil and Sotnua concerns. The latest agreement aims at forming a new company, which will group the production and sale of all buses and goods vehicles of 5 tons and over produced by the three concerns named.
These companies made 3,665 buses and heavy lorries, in 1954. • CLASH OVER ESTATE SERVICES
A CONFLICT between South Shields at-%. Transport Department and the Northern General Transport Co., Ltd., as to which undertaking should operate on a new estate at Brockley Whins, Jarrow, will be carried a stage further next Monday.
Last December, the company opposed an application by the department to run to Brockley Whins and the matter was deferred by the Northern Licensing Authority., The company have now drawn up a plan for a new service between /arrow and South Shields; which will cover the Brockley Whins district.
This application will be opposed by South Shields and Jarrow Corporations, P.S.V. APPEAL REJECTED
AN appeal by Messrs. W. and F. Harrison (Bermuda Motor Services) against the West Midland Licensing Authority's grant of permission to Messrs. A. Cox and W. Sephton (Godiva Coaches) to run an express service between Coventry and Margate, has been dismissed with costs by the Minister of Transport.
GUY WORKER IS MAYOR
ON the occasion of his election as • mayor of Wolverhampton, Aid. Frank Mansell, for 15 years secretary and convener of shop stewards of Guy Motors, Ltd., was on Monday entertained to a luncheon given by Mr. Sydney S. Guy, chairman and managing director of the company. Mr. Mansell has been with the company for a period of 28 years.
MORE SEDDONS FOR CYPRUS
A FURTHER contract for the supply
of 18 6-7-tonners has been received from Cyprus by Seddon Diesel Vehicles, Ltd. This is additional to the standing order for the delivery of 10 similar vehicles each month, and makes the total number of vehicles ordered during the past year 140.