Tribunal Caustic Over Letters : B.T.C. Appeals Succeed
17th June 1955
Page 35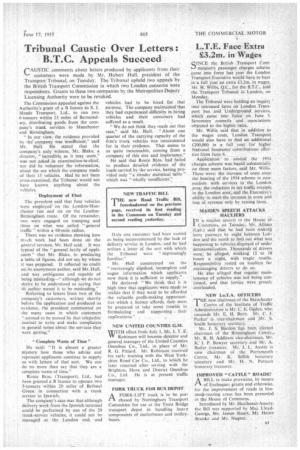 Page 35, 17th June 1955 —
Tribunal Caustic Over Letters : B.T.C. Appeals Succeed
Close
CAUSTIC comments about letters produced by applicants from their customers were made by Mr. Hubert Hull, president of the . Transport Tribunal, on Tuesday. The Tribunal upheld two appeals by the British Transport Commission in which two London concerns were respondents. Grants to these two companies by the Metropolitan Deputy Licensing Authority were to be revoked.
The Commission appealed against the Authority's grant of a B licence to S. J. Meads Transport, Ltd., to run two 6-tonners within 25 miles of Bermondsey, distributing goods from the company's trunk services to Manchester and Birmingham.
" In our view, the evidence provided by the company was insufficient," said Mr. Hull. He stated that the company's only witness, Mr. Blake, a director, "incredible as it may seem," was not asked in examination-in-chief, nor did he volunteer the information, about the use which the company made of their 15 vehicles. Had he not been cross-examined, the Tribunal would not have known anything about the vehicles.
Deployment of Fleet
The president said that four vehicles were employed on the London-Manchester run and six on the LondonBirmingham route. Of the remainder, two were engaged on tramping and three on what was called " general traffic" within a 60-mile radius.
, There was no evidence showing how ch work had been done on the general services, Mr. Hull said. It was typical of the "general laxity of applicants" that Mr. Blake, in producing a table of figures, did not say by whom it was prepared. It reflected no credit on its anonymous author, said Mr. Hull. and was ambiguous and capable of being Misleading—" although we do not desire to be understood as saying that ifs author meant it to be misleading." Referring to letters from two of the company's customers, written shortly before the application and produced as evidence, the president commented on the many cases in which customers " seemed to be moved by that telepathic instinct to write and make complaints in general terms about the services they were getting."
" Complete Waste of Time" He said: " It is almost a greater Mystery how those who advise and represent applicants continue to supply us with letters of that sort. We can do no more than say that they arc a complete waste of time."
Recce Bros. (Transport), Ltd., had been granted a B licence to operate two 3-tonners within 20 miles of Bethnal Green in connection with a trunk service to Ipswich.
The company's case was that although delivery work from the Ipswich terminal could be performed by one of the 20 . trunk-service vehicles, it could not be • managed at the London end, and vehicles had to be hired for that purpose. The company maintained that they had experienced difficulty in hiring vehicles and their customers had suffered as a result.
"We do not think they made out that case," said Mr. Hull. "About one quarter of the carrying capacity of the firm's trunk vehicles was unaccounted for in their evidence. That seems to us quite inexcusable, coming from a company of this size and importance."
He said that Reece Bros. had failed to produce detailed evidence of the loads carried by the service, having provided only "a slender statistical table" which was "wholly insufficient."
Oaly one customer had been named as being inconvenienced by the lack of delivery service in London, and he had written a letter of the sort with which the Tribunal were " depressingly familiar."
Mr. Hull commented on the " increasingly slipshod, incomplete and vague information which applicants now think it is sufficient to supply.'
He declared: "We think that it is _high time that applicants were. made to realize that if they want to. be afforded the valuable profit-making opportunities which a licence affords, they must he prepared to take some trouble in formulating and supporting their a pplica Lions." .
NEW UNITED COUNTIES G.M. IVITH effect froin July 1, Mr, .I. T. E. YV Robinson will become director and general manager of the United Counties Omnibus Co.. Ltd.. in place of Mr. R. G. Pittard. Mr. Robinson received his early training with the West Yorkshire Road Car Co., Ltd., to which he later returned after serving with the Brighton, Hove and District Omnibus Co., Ltd. He is at present traffic manager.
FORK TRUCK FOR BUS DEPOT
A FORK-LIFT truck is to be purr-Ichased by Nottingham Transport Committee for use at the Trent Bridge transport depot in handling heavy components of motorbuses and trolleybuses.