L.T.E. Face Extra £ 3.2m. in Wages S INCE the British Transport
17th June 1955
Page 35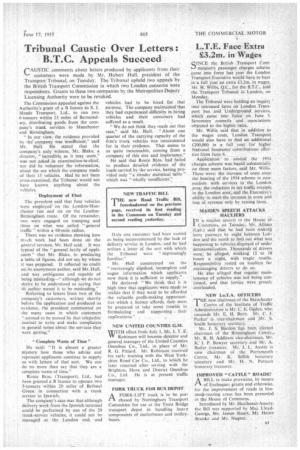 Page 35, 17th June 1955 —
L.T.E. Face Extra £ 3.2m. in Wages S INCE the British Transport
Close
Keywords :
Commission's passenger charges scheme came into force last year the London Transport Executive would have to bear in a full Year an extra £3.2m. in wages. Mr. H. Willis, Q.C., for the B.T.C., told the Transport Tribunal in London, on Monday.
The Tribunal were holding an inquiry intd inereased fares on London Transport bus and Underground services, which came into force on June 5. Seventeen councils and associations objected to the higher rates.
Mr. Willis said that in addition to the wages costs, London Transport would also have to find an additional t:200,000 in a full . year for higher National Insurance contributions effective from June 6..
Application" to amend the 1954 charges scheme was. based substantially on three main factors, said Mr. Willis. These were: the increase of costs .since the hearing of the 1954 scheme in connection with services in the London area; the reduction in net traffic receipts in the London area; and the Executive's ability to meet the increase in costs and loss of revenue only by raising fares: MAIDEN SPEECH ATTACKS.
HAULIERS .
IN a maiden speech in the House of
• Cornraons, on Tuesday, Mr. Allaun (Lab.) said that he had been making lorry journeys by night between London and the north to find out What was happening to Vehicles disposed of under denationalization. 1 housands of drivers were; he alleged, working 12 to 18 hours a night, with tragic results. Responsibility rested on hauliers for encouraging drivers to do so.
He also alleged that regular maintenance of vehicles was not being continued, and that lorries were grossly overloaded.
NEW Lo.T.A. OFFICERS THE new chairman of the Manchester
Centre of the Institute of Traffic Administration is Mr. C. E. Ogden, who succeeds Mr. E. H. Burn. Mr. C. J. Parker' is vice-chairman and Mr. S. Smith honorary secretary. .
Mr. J. S. Burdon has been elected chairman of the Birmingham Centre,, Mr. R. H. Addlesee vice-chairman, Mr. IC J. P. Bowyer secretary and Mr. A. Butler treasurer. Mr. I. L. Austin is now chairman of the Portsmouth Centre, Mr. K. Smith honorary secretary and Mr. H. N. Putnam honorary treasurer.
IMPROVED " CATTLE " ROADS? A BILL to make provision, by means of Exchequer grants and otherwise, for the improvement of roads in livestock-rearing areas has been presented in the House of Commons.
Introduced by Mr. Heatheeat-Amory, the Bill was supported by Maj. LloydGeorge, Mr. James Stuart, Mr. Hem Brooke and Mr. Nugent.
Tags
People
:
Allaun
,
R. H. Addlesee
,
S. Smith
,
J. S. Burdon
,
K. Smith
,
H. Willis
,
E. H. Burn
,
C. E. Ogden
,
I. L. Austin
,
Hem Brooke
,
Nugent
,
James Stuart
,
H. N. Putnam