Men in the News
17th June 1955
Page 34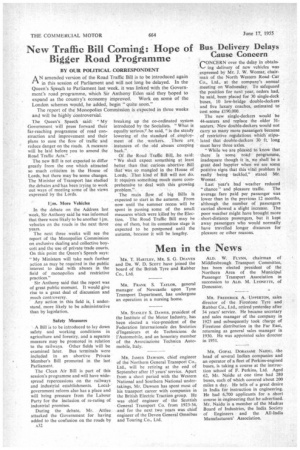 Page 34, 17th June 1955 —
Men in the News
Close
Keywords :
MR. T. HARTLEY, MR. S. G. DEAVES and DR. W. D. Scion have joined the board of the British Tyre and Rubber Co., Ltd.
MR. FRANK S. TAYLOR, general manager of Newcastle upon Tyne Transport Department, has undergone an operation in a nursing home.
MR. STANLEY S. DAWES, president of the Institute of the Motor Industry, has been elected a vice-president of the Federation Internationale des Societies d'Ingenieurs et de Techniciens de l'Automobile, and an honorary member of the Associazioite Technica Automobile, Italy.
MR. JAMES DAWSON, chief engineer of the Northern General Transport Co., Ltd., will be retiring at the end of September after 15 years' service. Apart from a short period with the Western National and Southern National undertakings, Mr. Dawson has spent most of his transport career with companies in the British Electric Traction group. He was chief engineer of the Scottish General Transport Co. from 1923-34, and for the next two years was chief engineer of the Devon General Omnibus and Touring Co., Ltd. At.o. W. FLYNN, chairman of Middlesbrough Transport Committee, has been elected president of the Northern Area of the Municipal Passenger Transport Association in succession to ALD. M. LYONETTE, of Doncaster.
MR. FREDERICK A. UPPERTON, sales director of the Firestone Tyre and Rubber Co., Ltd., retired yesterday after 34 years' service. He became secretary and sales manager of the company in 1925 and subsequently took charge of Firestone distribution in the Far East, returning as general sales manager in 1930. He was appointed sales director in 1951.
MR. GOPAL DORASAM1 NAIDU, the head of several Indian companies and an operator of a fleet of Perkins-engined buses, is taking a course at the instruction school of F. Perkins, Ltd. Aged 62, Mr. Naidu at one time had 280 buses, each of which covered about 200 miles a day. He tells of a great desire in India for instruction in engineering. He had 6,700 applicants for a short course in engineering that he advertised. Mr. Naidu is a member of the Madras Board of Industries, the India Society of Engineers and the All-India Manufacturers' Association.