Leyland-Atkinson Rumour Untrue
17th June 1955
Page 33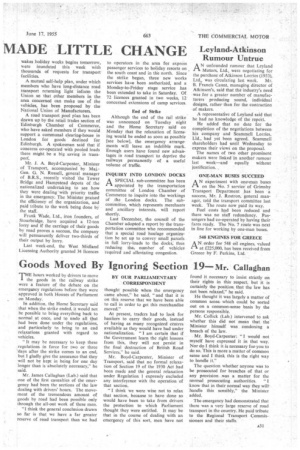 Page 33, 17th June 1955 —
Leyland-Atkinson Rumour Untrue
Close
AN unfounded rumour that Leyland Motors, Ltd., were negotiating for the purchase of Atkinson Lorries (1933),
Ltd., was circulating last week. Mr. B. Francis Caunt, managing director of Atkinson's, said that the industry's need was for a greater number of manufacturers producing sound, individual designs, rather than for the contraction of makers.
A representative of Leyland said that he had no knowledge of the report.
He added that no date for the completion of the negotiations between his company and Scammell Lorries, Lid., had yet been agreed. Scammell shareholders had until Wednesday to express their views on the proposal.
The names of two other prominent makers were linked in another rumour last week—and equally without justification.
ONE-MAN BUSES SUCCEED
AN experiment with one-man buses on the No. 5 service of Grimsby Transport Department has been a success, Mr. J. Rostron, general manager, told the transport committee last week. The route now paid its way.
Fuel costs had been reduced and there was no staff redundancy. Passengers had co-operated by having their fares ready. The No. 7 route was next in line for working by one-man buses.
548 ENGINES FOR GREECE AN order for 548 oil engines, valued at £225,000. has been received from Greece by F. Perkins, Ltd.