Goods Moved By Ignoring Section 19 Mr. Callaghan
17th June 1955
Page 33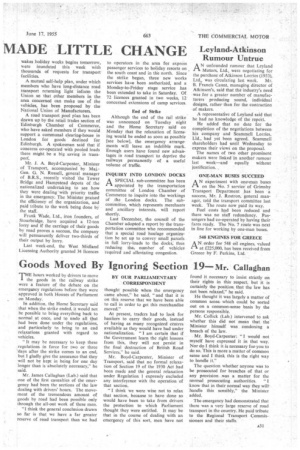 Page 33, 17th June 1955 —
Goods Moved By Ignoring Section 19 Mr. Callaghan
Close
BY OUR PARLIAMENTARY CORRESPONDENT THE hours worked by drivers to move I the goods in the railway strike were a feature of the debate on the emergency regulations before they were approved in both Houses of Parliament on Monday.
In addition, the Home Secretary said that when the strike ended, it would not be possible to bring everything back to normal at once, and to undo all tfiat had been done under the regulations, and particularly to bring to an end relaxations granted with regard to vehicles.
"it may be necessary to keep these regulations in force for two or three 'days after the strike comes to an end, but I gladly give the assurance that they will not be kept in being for one day longer than is absolutely necessary," he said.
Mr. James Callaghan (Lab.) said that one of the first casualties of the emergency had been the sections of the law dealing with drivers' hours. The movement of the tremendous amount of goods by road had been possible only through the all-out work of these men.
"I think the general conclusion drawn so far is that we have a far greater reserve of road transport than we had thought possible when the emergency came about," he said, "and that it is on this reserve that we have been able to call in order to get this merchandise moved."
At present, traders had to look for hauliers to carry their goods, instead of having as many recognized centres available as they would have had under nationalization. "I am certain that if the Government learn the right lessons from this, they will not persist in the final destruction of British Road Services," he said.
Mr. Boyd-Carpenter, Minister of Transport, said that no formal relaxation of Section 19 of the 1930 Act had been made and the general relaxation under Regulation 1 expressly excluded any interference with the operation of that section.
"I think we were wise not to relax that section, because to have done so would have been to take from drivers the protection to which Parliament thought they were entitled. It may be that in the course of dealing with an emergency of this sort, men have not found it necessary to insist strictly on their rights in this respect, but it is certainly the position that the law has not been relaxed," he said.
He thought it was largely a matter of common sense which could be sorted out on a common-sense basis by the persons responsible.
Mr. Collick (Lab.) intervened to ask whether this did not mean that the Minister himself was condoning a breach of the law.
Mr. Boyd-Carpenter: "I would not myself have expressed it in that way. Nor do I think it is necessary for-you to do so. This is more a matter of common sense and I think this is the right way to handle it."
The question whether anyone was to be prosecuted for breaches of that or any provision was a matter for the normal prosecuting authorities. "1 know that in their normal way they will handle this sensibly," the Minister added.
The emergency had demonstrated that there was a very large reserve of mad transport in the country. He paid tribute to the Regional Transport Commissioners and their staffs.