LIFTING OF CONTROLS MADE LITTLE CHANGE
17th June 1955
Page 32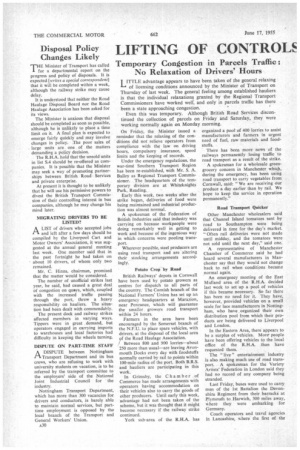 Page 33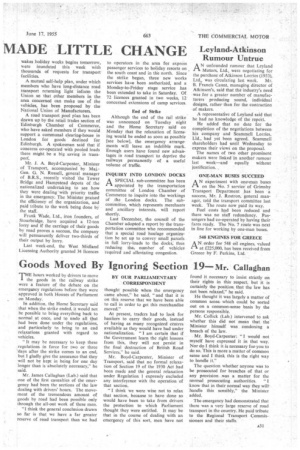 Page 32, 17th June 1955 —
LIFTING OF CONTROLS MADE LITTLE CHANGE
Close
Temporary Congestion in Parcels Traffic : No Relaxation of Drivers' Hours
ITTLE advantage appears to have been taken of the general relaxing of licensing conditions announced by the Minister of Transport on Thursday of last week. The general feeling among established hauliers is that the individual relaxationl granted by the Regional Transport Commissioners have worked well, and only in parcels traffic has there
been a state approaching congestion. • Even this was temporary. Although British Road Services discontinued the collection of parcels on Friday and Saturday, they were working normally again on Monday morning.
On Friday, the Minister issued a reminder that the relaxing of the conditions did not relieve operators from compliance with the law on driving hours, compulsory insurance, speed limits and the keeping of records.
Under the emergency regulations, the war-time Southern Transport Region has been re-established, with Mr. S. A. Bailey as Regional Transport Commissioner. The headquarters of the temporary division are at Whiteknights Park, Reading.
Early this week, two weeks after the strike began, deliveries of food were being maintained and industrial production was almost normal.
A spokesman of the Federation of British Industries said that industry was carrying on because workpeopie were doing remarkably well in getting to work and because of the ingenious way in which concerns were pooling transport Wherever possible, steel producers are using road transport and are altering their stocking arrangements accordingly.
Potato Crop by Road
British Railways' depots in Cornwall have been used by potato growers as centres for dispatch to all parts of the country. The Cornish branch of the National Farmers' Union has set up au emergency headquarters at Marazion, near Penzance, which will guarantee the smaller growers road transport within 24 hours.
Farmers in the area have been encouraged by the Somerset branch of the N.F.U. to place spare vehicles, with drivers, at the disposal of the local area 9f the Road Haulage Association.
,/ Between 800 and 900 lorries—about 250 more than usual—arc leaving Avonmouth Docks every day with foodstuffs normally carried by rail to points within 100-mile radius of the port. Both B.R.S. and hauliers arc participating in this work.
In Grimsby, the Ch am ber of Commerce has made arrangements with operators having accommodation on their vehicles also to carry the goods of other producers. Until early this week, advantage had not been taken of the scheme, but it was thought that it might become necessary if the railway strike continued.
York sub-area of the R.H.A. has
organized a pool of 400 lorries to assist manufacturers and farmers in urgent need of fuel, raw materials and foodstuffs.
There has been more news of the railways permanently losing traffic to road transport as a result of the strike.
A spokesman for a wholesale greengrocery concern in Manchester which, during the emergency, has been using road transport to carry vegetables from Cornwall, said: "We are receiving our produce a day earlier than by rail. We hope to keep the service in operation permanently."
Road Transport Quicker Other Manchester wholesalers said that Channel Island tomatoes sent by road to Southampton were being delivered in time for the day's market. " Often rail deliveries were not made until midday, and the tomatoes were not sold until the next day," said one.
A representative of Manchester Chamber of Commerce said he had heard several manufacturers in Manchester say that they would not change back to rail when conditions became normal again.
An emergency meeting of the East Midland area of the R.H.A. decided last week to set up a pool of vehicles if this became necessary. So far there has been no need for it. They have, however, provided vehicles on a small scale for lace manufacturers in Nottingham, who have organized their own distribution pool from which their products are being delivered to Liverpool and London.
In the Eastern Area, there appears to be a surplus of vehicles. More people have been offering vehicles to the local office of the R.H.A. than have requested them.
The " live " entertainment industry is also making much use of road transport. A spokesman for the Variety Artists' Federation in London said they had no record of any company being stranded.
Last Friday, buses were used to carry men of the 1st Battalion the Devonshire Regiment from their barracks at Plymouth to Harwich, 300 miles away, where they were embarking for Germany.
Coach operators and travel agencies in Lancashire, where the first of the wakes holiday weeks begins tomorrow, N ere inundated this week with thousands of requests for transport facilities.
A mutual self-help plan, under which members who have long-distance road transport returning light inform the Union so that other members in the area concerned can make use of the vehicles, has been proposed by the National Union of Manufacturers.
A road transport pool plan has been drawn up by the retail trades section of Edinburgh Chamber of Commerce, who have asked members if they would support a communal clearing-house in London for goods destined for Edinburgh. A spokesman said that if concerns co-operated with pooled loads there might be a big saving in transport.
Mr. J. A. Boyd-Carpenter, Minister of Transport, accompanied by Maj.Gen. G. N. Russell, general manager of B.R.S., recently visited 'the Tower Bridge and Hampstead depots of the nationalized undertaking to see how they were dealing with priority traffic in the emergency. The Minister praised the efficiency of the organization, and paid tribute to the work being done by the staff.
Frank Wade, Ltd., iron founders, of Stourbridge, have acquired a 12-ton lorry and if the carriage of their goods by road proves a success, the company will permanently deliver two-thirds of their output by lorry.
Last week-end, the West Midland Licensing Authority granted 34 licences to operators in the area for express passenger services to holiday resorts on the south coast and in the north. Since the strike began, three new works services have been authorized, and a Monday-to-Friday stage service has been extended to take in Saturday. Of 72 licences granted in two weeks, 12 concerned extensions of camp services.
End of Strike
Although the end of the rail strike was announced on Tuesday night and the Home Secretary said on Monday that the relaxation of licensing would be ended as soon as possible [see below], the emergency arrangements will leave an indelible mark. Enough users have found new advantages in road transport to deprive the railways permanently of a useful volume of traffic.
INQUIRY INTO LONDON DOCKS A SPECIAL sub-committee has been
appointed by the transportation committee of London Chamber of Commerce to inquire into the workings of the London docks. The subcommittee, which represents merchants and ancillary interests, will report shortly.
Last December, the council of the Chamber adopted a report by the transportation committee who recommended that a special road haulage organization be set up to convey small parcels in full lorry-loads to the docks, thus reducing the/ number of vehicles required and alleviating congestion.