Disposal Policy Changes Likely
17th June 1955
Page 32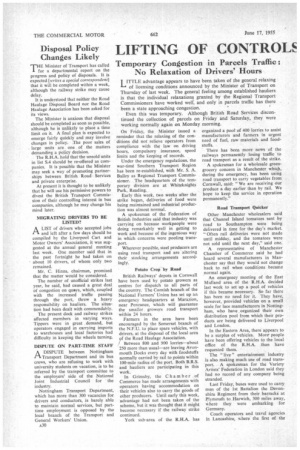 Page 32, 17th June 1955 —
Disposal Policy Changes Likely
Close
THE Minister of Transport has called for a departmental report on the progress and policy of disposals. It is expected [writes a special correspondent] that it will be completed within a week, although the railway strike may cause delay.
It is understood that neither the Road Haulage Disposal Board nor the Road Haulage Association has been asked for its views.
The Minister is anxious that disposal should be completed as soon as possible, although he is unlikely to place a time limit on it. A final plan is expected to emerge fairly quickly and may involve changes in policy. The poor sales of large units are one of the matters demanding a policy decision.
The R.H.A. hold that the unsold units in list S.4 should be re-offered as companies. It is possible that the Minister may seek a way of promoting partnerships between British Road Services and private enterprise.
At present it is thought to be unlikely that he will use his permissive powers to divest the British Transport Commission of their controlling interest in bus companies, although he may change his mind later.
MIGRATING DRIVERS TO BE LISTED?
ALIST of drivers who accepted jobs and left after a few days should be compiled by the Liverpool Cart and Motor Owners' Association, it was suggested at the annual general meeting last week. One member said that in the past fortnight he had taken on about 10 drivers, of whom only two remained.
Mr. C. Hinns, chairman, promised that the matter would be considered.
The number of unofficial strikes last year, he said, had caused a great deal of congestion on quays, which, coupled with the increased traffic passing through the port, threw a heavy responsibility on hauliers. The situation had been dealt with commendably.
The present dock and railway strikes affected members in varying ways. Tippers were in great demand, but operators engaged in carrying imports to warehouses and local factories had difficulty in keeping the wheels turning.
DISPUTE ON PART-TIME STAFF
PAA DISPUTE between Nottingham Transport Department and its bus crews, who are refusing to work with university students on vacation, is to be referred by the transport committee to the employers' side of the National Joint Industrial Council for the industry.
Nottingham Transport Department, which has more than 300 vacancies for drivers and conductors, is barely able to maintain normal services, but parttime employment is opposed by the local branch of the Transport and General Workers' Union.
A30