One Hears
17th June 1955
Page 31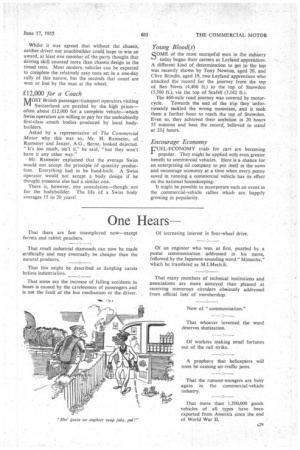 Page 31, 17th June 1955 —
One Hears
Close
That there are few unemployed now—except ferrets and rabbit poachers.
That small industrial diamonds can now be made artificially and may eventually be cheaper than the natural products.
That this might be described as dangling carats before industrialists.
That some say the increase of falling accidents in buses is caused by the carelessness of passengers and is not the fault of the bus mechanism or the driver.
Of increasing interest in four-wheel drive.
Of an engineer who was, at first, puzzled by a postal communication addressed in his name, followed by the Japanese-sounding word " Mimeche," which he translated as M.I.Mech.E.
That many members of technical institutions and associations are more annoyed than pleased at receiving numerous circulars obviously addressed from official lists of membership.
Now of " commonisation."
That whoever invented the word deserves shotization.
Of workers making small fortunes out of the rail strike.
A prophecy that helicopters will soon be causing air-traffic jams.
That the rumour-mongers are busy again in the commercial-vehicle industry.
That more than 1,500,000 goods vehicles of all types have been exported from America since the end of World War II.