Programme for Politicians
17th June 1955
Page 30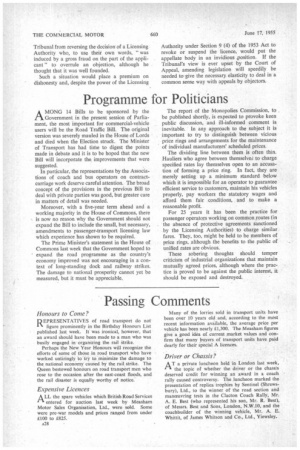 Page 30, 17th June 1955 —
Programme for Politicians
Close
A MONG 14 Bills to be sponsored by the Government in the present session of Parliament, the most important for commercial-vehicle users will be the Road Traffic Bill. The original version was severely mauled in the House of Lords and died when the Election struck. The Minister of Transport has had time to digest the points made in debate and it is to be hoped that the new Bill will incorporate the improvements that were suggested.
In particular, the representations by the Associations of coach and bus operators on contractcarriage work deserve careful attention. The broad concept of the provisions in the previous Bill to deal with private parties was good, but greater care in matters of detail was needed.
Moreover, with a five-year term ahead and a working majority in the House of Commons, there is now no reason why the Government should not expand the Bill to include the small, but necessary, amendments to passenger-transport licensing law which experience has shown to be required.
The Prime Minister's statement in the House of Commons last week that the Government hoped to expand the road programme as the country's economy improved was not encouraging in a context of long-standing dock and railway strikes. The damage to national prosperity cannot yet be measured, but it must be appreciable. The report of the Monopolies Commission, to be published shortly, is expected to provoke keen public discussion, and ill-informed comment is inevitable. In any approach to the subject it is important to try to distinguish between vicious price rings and arrangements for the maintenance of individual manufacturers' scheduled prices.
The dividing line between them is often thin. Hauliers who agree between themselvet; to charge specified rates lay themselves open to an accusation of forming a price ring. In fact, they are merely setting up a minimum standard below which it is impossible for an operator to guarantee efficient service to customers, maintain his vehicles properly, pay workers the statutory wages and afford them fair conditions, and to make a reasonable profit.
For 25 years it has been the practice for passenger operators working on common routes (in the absence of protective agreements sanctioned by the Licensing Authorities) to charge similar fares. They, too, might be held to be members of price rings, although the benefits to the public of unified rates are obvious.
These sobering thoughts should temper criticism of industrial organizations that maintain mutually agreed prices, although where the practice is proved to be against the public interest, it should be exposed and destroyed.