"Jitneys" Will Have a Short Life.
17th June 1915
Page 5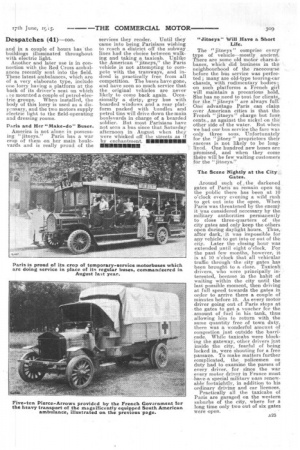 Page 5, 17th June 1915 —
"Jitneys" Will Have a Short Life.
Close
The "jitneys" comprise every type of vehicle—mostly ancient, There are some old motor chars-abanes, which did basiness in the neighbourhood of the racecourse before the bus service Was perfected ; many are old-type touring-car chassis, with rudimentary" bodies:; on Such platforms a French girl will maintain a precarious hold. She has no need to tout for clientS, for the " jitneys " are always full. One' advantage Paris can claim over American cities is that the French " jitneys" charge but foaa, cents., as against the nickel on the' other side of the water. But when:" we had our bus service the fare was only three sous. Unfortunately for the "jitney" proprietors their success is not likely to be longlived. One hundred new buses are *rinsed, and when they come ,there will be few waiting customers .for the "jitneys."
The Scene Nightly at the
Around such of ;the darkened gates of Paris" as "remain open t.:.4 the public there has been at 10 o'clock every evening a wild rush to get out into the open. When Paris was threatened by the enemk it Was considered necessary by the military authorities permanently to close three-quarters of the city gates and only keep the others open during daylight hours. Thus, after dark,: it was impossible for any vehicle to get into or out of the city. Later the closing hour was extended until eight o'clock. For the past few months, however, it is at 10 o'clock that all vehicular traffic threugh the• city gates has been brought to a close. Taxicab" drivers, who were principally in-. terested, became in the habit of waiting within the city until the last possible moment, then driving at full speed towards the gates in order to arrive there a couple of minutes before 10. As every motor driver going out of Paris stops at the gates to get a voucher for the amount of fuel in his tank, thus . allowing him to return with the same quantity free of town duty, there was a wonderful amount of congestion just outside the barria .cade. While taxicabs were blocking the gateway, other drivers just inside the city, fearful of being locked in, were shouting for a free passage. To make matters further complicated, the policemen on duty had to examine the passes of every driver, for since the war -every motor driver in France must -have.a" special military nass renewable' fortnightly, in addition to his ordinary driving and car licences.
Practically • all the taxicabs of Paris are garaged on the western suburbs of the city, where for a long time only two out of six gates were open.