One Hears—
17th June 1915
Page 3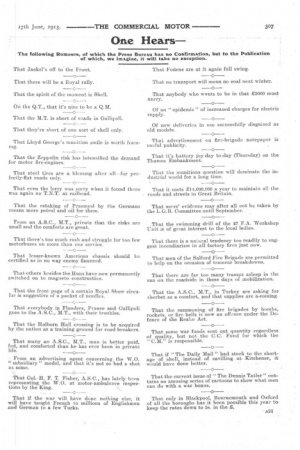 Page 3, 17th June 1915 —
One Hears—
Close
The following Rumours, of which the Press Bureau has no Confirmation, but to the Publication of which, we imagine, it wilt take no exception.
That Jaekel's off to the Front.
That there will be a Royal rally.
That the spirit of the moment is Shell.
On the Q.T., that it's nice to be a Q.M. That the M.T. is short of roads in Gallipoli. That they're short of one sort of shell only.
That Lloyd George's munition smile is worth framing.
That the Zeppelin risk has intensified the demand for motor fire-engines.
That steel tires are a blessing after all—for perfectly-fiat roads only.
That even the lorry was sorry when it found there was again no T.N.T. at railhead.
That the retaking of Przernysl by the Germans means more petrol and oil for them, From an A.S.C., 31.T., private that the risks are small and the comforts are great.
That there's too much rush and struggle for too few motorbuse.s on more than cue service.
That lesser-known American chassis should he certified as in no way enemy financed.
That others besides the Huns have now permanently switched on to magneto construction.
That the front page of a certain Royal Show eircuhr is suggestive of a packet of needles.
That everybody in Flanders, France and Gallipoli goes to the A.S.C., M.T., with their troubles.
That the Holborn Hall crossing is to be acquired by the nation as a training ground for road-breakers.
That many an A.S.C., 11.T., man is better paid, fed, and comforted than he has ever been in private life.
. From an advertising agent concerning the W.O. " subsidiary " model, and that it's not so bad a shot as some.
That Col. H. F. T. Fisher, A.S.C., has lately been representing the W.O. at motor-ambulance inspections by the King.
That if the war will have done nothing else, it will have taught French to millions of Englishmen and German to a few Turks. That Fodens are at it again full swing.
That no transport will mean no coal next winter.
That anybody who wants to be in that 25000 must flurry.
Of an " epidemic" of increased charges for electrie supply.
Of new deliveries in use successfully disguised as old models.
That advertisement on fire-brigade notep.aper is useful publicity. —0- That it's battery joy-day to-day (Thursday) on the Thames Embankment.
That the munitions question will dominate the industrial world for a long time.
That it costs £14,000,000 a year to maintain all the roads and streets in Great Britain.
That users' evidence may after all not be taken by the L.G.B. Committee until September.
That the swimming drill of the 27. F.A. Workshop TThit is of great interest to the local ladies.
That there is a. na/...hral tendency too readily to suggest ineendiarism in all factory fires just now.
That men of the Salford Fire Brigade are permitted to help on the occasion of tramcar breakdowns.
That there are far too many tramps asleep in the sun on the roadside in these days of mobilization.
That the A.S.C., 1VI.T., in Turkey are asking for sherbet as a comfort, and that supplies are a-coming That the summoning of fire brigades by bombs, rockets, or fire bells is now an offence under the Defence of the Realm Act.
That some war funds sent out quantity regardless of quality, but not the C.C. Fund for which the "CM." is responsible: That if "The Daily Mail ".had stuck to the shortage of shell, instead of cavilling at Kitchener, it would have done better.
That the current issue of "The Dennis Tatler " Contains an amusing series of cartoons to show what men can do with a war bonus.
That only in Blackpool, Bournemouth and Oxford of all the boroughs has it been possible this year to keep the rates down to 5s. in the 2.