The Purchase Department.
17th June 1915
Page 20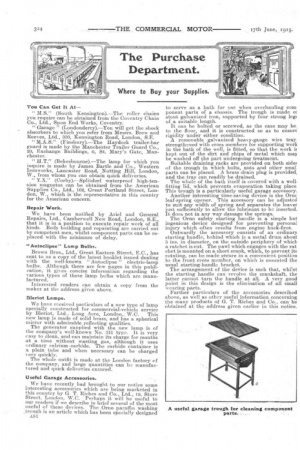 Page 20, 17th June 1915 —
The Purchase Department.
Close
Where to Buy your Supplies.
You Can Get It At M.S." (South Kensington).—The roller chains you require can be obtained from the Coventry Chain Co., Ltd., Spon End Works, Coventry. "
Garage" (Londonderry).—You will get the shock absorbers to which you refer from Messrs. Brew and Reeves, Ltd., 3:30, Kennington Road, London, S.E.
" M.A.S." (Finsbury).—The Haydoek trailer-bar guard is made by the Manchester Trailer Guard Co., 20, Exchange Buildings, 6, St. Mary's Gate, Manchester.
" II.T." (Bekesbourne).—The lamp for which you inquire is made by James Bartle and Co., Western Ironworks, Lancaster Road, Notting Hill, London, W., from whom you can obtain quick deliveries.
" Y.X." (Corby).—Splitdorf waterproof high-ten
sion can be obtained from the American Supplies Co., Ltd.' 162, Great Portland Street, London, W., which is the representative in this country for the American concern.
Repair Work.
We have been notified by Arid l and General Repairs, Ltd., Camberwell New Road, London, SE,, that it is in a position to execute repair work of all kinds. Body building and repainting are carried out by competent men, whilst component parts can be replaced with the minimum of delay.
"Autoclipse" Lamp Bulbs.
Brown Bros., Ltd., Great Eastern Street, E.C., has sent to us a copy of the latest booklet issued dealing with the well-known " Autoclipse " electric-lamp bulbs. Although there are few pages in this publication, it gives concise information regarding the various types of these lamp bulbs which are manufactured.
Interested readers can obtain a copy from the maker at the address given above.
BIeriot Lamps.
We have received particulars of a new type of lamp specially constructed for commercial-vehicle service by Bleriot, Ltd., Long Acre, London, , W.C. This new lamp is made of solid brass, and has a spherical mirror with admirable reflecting qualities.
The generator supplied with the new lamp is of the company's well-known No. 311 type. It is very asy to clean, and can maintain its charge for months at a time without wasting gas, although it uses ordinary calcium ,carbide. The carbide container is a plain tube and when necessary can be charged very quickly.
The whole outfit is made at the London factory of the company, and large quantities can be manufactured and quick deliveries ensured.
Useful Garage Accessories.
We have recently had brought to our notice some interesting accessories which are being marketed in this country by G. T. Riches and Co.. Ltd., 19, Store Street, London, W.C. Perhaps it will be useful to our readers if we describe in brief several of the most useful of these devices. The Orno paraffin washing ,trough is an article which has been specially designed A54'
to serve as a bath for use when overhauling corn. ponent parts of a chassis. The trough is made oi stout galvanized iron, supported by four strong legt of a suitable length. It can be bolted or screwed, as the case may be to the floor, and it is constructed so as to ensurc rigidity under either condition. A removable galvanized heavy-gauge wire tray. strengthened with cross members for supporting work in the bath of the well, is fitted, so that the work if kept out of the dirt and chips of metal which may be washed off the part undergoing treatment.
Suitable draining racks are provided on both sideE of the trough in which bolts, nuts and other mat parts can be placed. A brass drain plug is provided; and the tray can readily be drained.
The whole of the bath itself is covered with a welt fitting lid, which prevents evaporation taking place. This trough is a particularly useful garage accessory.
Another interesting_time-saving device is the Ornc leaf-spring opener. This accessory can be adjusted to suit any width of spring and separates the leaves just sufficiently to allow the lubricant to he inserted. It does not in any way damage the springs.
The Orno safety starting handle is a simple but ingenious device designed for preventing personal injury which often results from engine back-fires. Outwardly the accessory consists of an ordinary starting handle, behind which is a metal drum about 5 ins, in diameter, on the outside periphery of which a ratchet is cut. The pawl which engages with the rat chet is mounted on a short crank, which, to prevent its rotating, can be made secure in a convenient position to the front cross member, on which is mounted the usual starting-handle bracket. The arrangement of the device is such that, whilst the starting handle can revolve the crankshaft, the latter cannot turn the handle at all. A very good point in this design is the elimination of all small wearing parts.
Further particulars of the accessories described above, as well as other useful information concerning the many products of G. T. Riches and Co., can be obtained at the address given earlier in this notice.