Answers to Queries.
17th June 1915
Page 19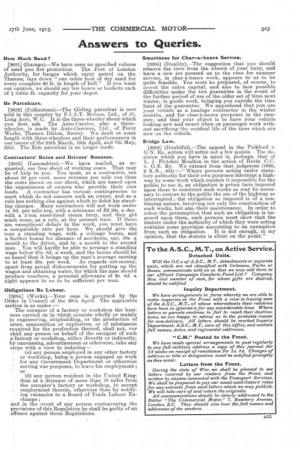 Page 19, 17th June 1915 —
Answers to Queries.
Close
How Much Sand.?
[2681] (Garage).—We have seen no specified volume of sand qua fire protection. The Port of London Authority, for barges which carry petrol on the Thames, lays down "one cubic foot of dry sand for every complete 20 ft. in length of hull." If you want our opinion, we should say ten boxes or buckets each of cubic ft. capacity for your depot.
Re Parcekars.
[2682] (Folkestone).—The Girling parcelcar is now sold in this country by F.I.A.T. Motors, Ltd., of 37, Long Acre, W. C. It is the three-wheeler about which you first ask. The Auto-Carrier, also a threewheeler, is made by Auto-Carriers, Ltd., of Ferry Works, Thames Ditton, Surrey. We dealt at some length with three-wheelers and their performances in our issues of the 26th March, 16th April, and 7th May, 1914. The Erie parcelcar is no longer made.
Contractors' Rates and Drivers' Bonuses.
[2683] (Lancashire).—We have mailed, as requested, our free sheet of working costs. That may b-e of help to you. You must, as a contractor, see about 60 per cent, more revenue per mile run than the costs shown on our sheet, which are based upon the experiences of owners who provide their own loads. A contractor has various contingencies to meet which do not concern such an owner, and as a rule has nothing else against which to debit his standing charges. Many contractors will not work under is. 6d. per mile run with a minimum of 22 10s. a day. with a 5-ton steel-tired steam lorry, and they get much more, as a rule, at the present time. If there are exceptional delays in the work, you must have a comparable rate per hour. We should give the men a standing wage, with a mileage bonus, and a further bonus for absence of accidents, say, 10s. a month to the driver, and 5s. a month to the second man. You will hardly be able to arrange a standing wage below 27s. 6d. a week, and the bonus should be so based that it brings up the man's average earning to at least 35s. per week. As regards out-money, apart from actual disbursements for putting up the wagon and obtaining water, for which the man should produce vouchers, a personal allowance of 2s. 6d. a night appears to us to be sufficient per man.
Obligations Re Labour.
[2684] (Works).—Your case is governed by the Order in Council of the 29th April. The applicable section is as under :— The occupier of a factory or workshop the business carried on in which consists wholly or mainly in engineering, shipbuilding, or the production of arms, ammunition or explosives, or of substances required for the production thereof, shall not, nor shall any person on behalf of the occupier of such a factory or workshop, either directly or indirectly, by canvassing, advertisement or otherwise, take any steps with a view to inducing—
(a) any person employed in any other factory or workshop, being -a person engaged on work for any Government Department or otherwise serving war purposes, to leave his employment ; Or (0 any person resident in the United Kingdom at a distance of more than 10 miles from the occupier's factory or workshop, to accept employment therein, otherwise than by notifying vacancies to a Board of Trade Labour Exchange ; and in the event of any person contravening the provisions of this Regulation he shall be guilty of an offence against these Regulations. Smartness for Char.a-bancs Service.
[2685] (Duality).—The suggestion that -you should remove the tires from the wheels of your lorry, and have a new set pressed on to the rims for summer service, in char-a-banes work, appears to us to be quite feasible. You must be prepared, of course, to invest the extra capital, and also to face possible difficulties under the tire guarantee in the event of the further period of use of the older set of tires next winter, in goods work, bringing you outside the time limit of the guarantee. We apprehend that you use your vehicle as a haulage contractor in the winter months, and for char-a-bancs purposes in the summer, and that your object is to have your vehicle looking new and smart when on passenger work without sacrificing!the residual life of the tires which are now on the vehicle.
Bridge Law.
[2686] (Doubtful).—The appeal in the Pickford v. G.N. By. action will settle not a few points. The decision which you have in mind is, perhaps, that of L. J. Fletcher Moulton in the action of Herts. C.C. v. G.E. Ry. We extract from that judgment (1909, 2 KB., 403) :—" Where persons acting under statutory authority for their own purposes interrupt a highway by some work which renders it impossible for the public to use it, an obligation is prima facie imposed upon them to construct such works as may be necessary to restore to the public the use of the highway so interrupted ; the obligation so imposed is of a continuing nature, involving not only the construction of such works, but also their maintenance. In order to rebut the presumption that such an obligation is imposed upon them, such persons must show that the statute under the authority of which they were acting contains some provision amounting to an exemption from such an obligation. It is not enough, in my opinion, that the statute is silent on the point." •