Wheels of Industry—con.
17th June 1915
Page 9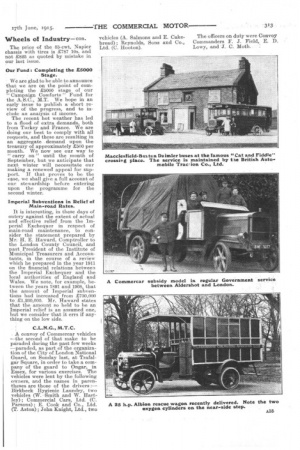 Page 10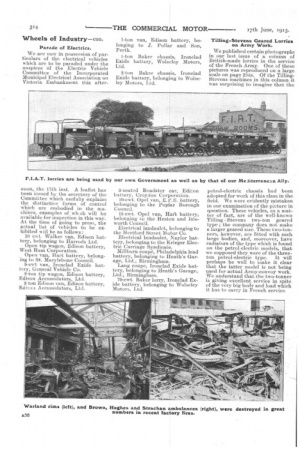 Page 11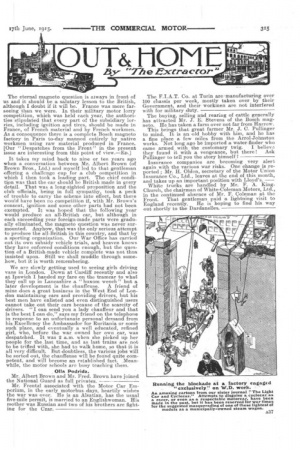 Page 9, 17th June 1915 —
Wheels of Industry—con.
Close
The price of the 85-cwt. Napier chassis with tires is £787 108. and nOt £825 as quoted by mistake in our last issue.
Our Fund : Completing the £5000 Stage.
We are glad to be able to announce that we are on the point of completing the 25000 stage of our
Campaign Comforts" Fund for the A.S.C., M.T. We hope in an early issue to publish a short review of the progress, and to include an analysis of income.
The recent hot weather has led to a flood of extra demands both from Turkey and France. We are doing our best to comply with all requests, and these are resulting in an aggregate demand upon the treasury of approximately £500 per month. We now see our way to "carry on" until the month of September, but we anticipate that next winter will necessitate our making a renewed appeal for support. If that proves to be the case, we shall give a full account of our stewardship before entering upon the programme for the second winter.
Imperial Subventions in Relief of Main-road Rates.
It is interesting, in these days of outcry against the extent of actual and effective relief from the Imperial Exchequer in respect of main-road maintenance, to consider the statement prepared by Mr. H. E. Haward, Comptroller to the London County Council, and past President of the Institute of Municipal Treasurers and Accountants, in the course of a review which he prepared in the year 1911 on the financial relations between the Imperial Exchequer and the local authorities of England and Wales. We note, for example, between the years 1891 and 1908 that the amount of Imperial subventiAms had increased from 2730,000 to £1,260,000. Mr. Haward states that the amount so held to be an Imperial relief is an assumed one, but we consider that it errs if anything on the low side.
C.L.N.G., M.T.C.
A convoy of Commercar vehicles —the second of that make to be paraded during the past few weeks —paraded, as part of the organizatiOn of the City of London National Guard, on Sunday last, at Trafalgar Square, in order to take a company of the guard to Ongar, in Essex, for various exercises. The vehicles were lent by the following owners, and the names in parentheses are those of the drivers :— Birkbeck Hygienic Laundry, two vehicles (W. Smith and W. Hartley); Commercial Cars, Ltd. (C. Parsons); E. Cook and Co., Ltd. (T. Aston); John Knight, Ltd., two vehicles (A. Salmons and E. Cakebread); Reynolds, Sons and Co., Ltd. (C. Hooton). The officers on duty were Convoy Commanders F. 3. Field, E. D. Lowy, and J. C. Moth.
Wheels of Industry—con.
Parade of Electrics.
We are now in possession of particulars of the electrical vehicles which are to be paraded under the auspices of the Electric Vehicle Committee of the Incorporated Municipal Electrical Association on Victoria Embankment this after noon, the 17th inst. _ A leaflet has been i.ssued by the secretary of the Committee which usefully explains the distinctive forms of control which are embodied in the machines, examples of which will be available for inspection in this way. At the time of going to press, the actual list of vehicles to be exhibited will be as follows : 10 cwt. Walker van, Edison battery, belonging to Harrods Ltd.
Open tip wagon, Edison battery, West Ham Corporation. Open van, Hart battery, belonging to St. Marylebone Council.
8-ewt van, Ironclad Exide battery, General Vehicle Co.
2-ton tip wagon, Edison battery, Edison Accumulators, Ltd.
2-ton Edison van, Edison battery, Edison. Accumulators, Ltd.
1-ton van, Edison battery, belonging to J. Pullar and Son, Perth.
1-ton Baker chassis, Ironclad Exide battery, Wolseley Motors, Ltd.
2-ton Baker chassis, Ironclad Exide battery, belonging to Wolseley Motors, Ltd.
3-seated Roadster car, EdiEon battery, Croydon Corporation.
10-cwt. Opel van, E.P. S. battery, belonging to the Poplar Borough Council.
15-cwt. Opel van, Haft battery, belonging to the Heston and Isleworth Council.
Electrical landaulet, belonging to the Hertford Street Motor Co.
Electrical landaulet, Naylor battery, belonging to the Krieger Electric Carriage Syndicate. Millburn coupe, Philadelphia lead battery, belonging to Heath's Garage, Ltd., Birmingham.
Lang coupe, Ironclad Exide battery, belonging to Heath's Garage, Ltd., Birmingham. 70-cwt. Baker lorry, Ironclad Exide battery, belonging to Wolseley Motors, Ltd. Tilling-Stevens Geared Lorries on Army Work.
We published certain photographs in our last issue of a column of British-made lorries in the service of the French Army. One Of these pictures was reproduced on a large scale on page 294a. Of the TillingStevens machines in this column-it was surprising to imagine that the petrol-electric chassis had been adopted for work of this class in the field. We were evidently mistaken in our examination of the picture in question. These vehicles, as a matter of fact, are of the well-known Tilling Stevens two-ton geared type ; the company does not make a larger geared size. These two-tonners, however, are fitted with such large bodies, and, moreover, have radiators of the type which is found on the petrol-electric models, that we supposed they were of the three ton petrol-electric type. It will perhaps be well to make it clear that the latter model is not being used for actual Army-convoy work. We understand that the two-tonner is giving excellent service in spite of the very big body and load which it has to carry in French service. The eternal magneto question is always in front of us and it should be a salutary lesson to the British, although I doubt if it will be. France was more farseeing than we were. In their military motor lorry competition, which was held each year, the authorities stipulated that every part of the subsidiary lorries, including ignition and tires, should be made in France, of French material and by French workmen. As a consequence there is a complete Bosch magneto factory in Paris to-day manned entirely by native workmen using raw material produced in France. [Our "Despatches from the Front" in the present issue are interesting from this point of view.—En.]
It takes my mind back to nine or ten years ago when a conversation between Mr. Albert Brown (of Brown Bros., Ltd.) and myself led to that gentleman offering a challenge cup for a club competition in which I then took a leading part. The chief condition was that the car should he British made in every detail. That was a long-sighted proposition and the club officials, being in full sympathy, took a peck of trouble to carry the scheme into effect, but there would have been no competition if, with Mr. Brown's consent, ignition and some other parts had not been exempted. It was hoped that the following year would produce an all-British car, but although in each succeeding year foreign-made parts were gradually eliminated, the magneto question was never surmounted. Anyhow, that was the only serious attempt to produce the all-British in this country, and that by a sporting organization. Our War Office has carried out its own subsidy vehicle trials, and heaven knows they have enforced conditions enough, but the question of a British-made vehicle eomplete was not thus insisted upon. Still we shall muddle through somehow, but it is worth remembering.
We are slowly getting used to seeing girls driving vans in London. Down at Cardiff recently and also at Ipswich I handed my fare on the tramcar to what they call up in Lancashire a "buxom wench" but a later development is the chauffeuse. A friend of mine does a great business in the West End of London maintaining ears and providing drivers, but his best men have enlisted and even distinguished users cannot take out their cars because of the scarcity of drivers. "I can send you a lady chauffeur and that is the best I can do," says my friend on the telephone in response to an unfortunate personal demand from his Excellency the Ambassador for Ruritania or sorne such place, and eventually a well educated, refined girl, who before the war owned her own car, was despatched. It was 2 a.m. when she picked up her people for the last time, and as last trains are not to be trifled with, she had to walk home, so that it is all very difficult. But doubtless, the various jobs will be sorted out, the chauffeuse will be found quite competent, and will become an established fact.
while, the motor schools are busy teaching them.
Olin Podrida.
Mr. Albert Brown and Mr. Fred. Brown have joined the National Guard as full privates. Mr. Frentzl associated with the Motor Car Emporium, in the early motorbus days, heartily wishes the war was over. He is an Alsatian, has the usual five-mile permit, is married to an Englishwoman. His mother was Russian and two of his brothers are fight in a for the Czar. The F.I.A.T. Co. at Turin are:manufacturing over 100 chassis per week, mostly taken over by their Government, and their workmen are not interfered with for military duty. The buying, selling and rearing of cattle generally has attracted Mr. J. E. Stevens of the Bosch magneto. He has taken a, farm over not far from Harrow. This brings that great farmer Mr. J. C. Pullinger to mind. It is an old hobby with him, and he has a fine place a few miles from the Arrol-Johnston works. Not long ago he imported a water-finder who came armed with the customary twig. I believe they found it with a vengeance, but there! Ask Pullinger to tell you the story himself 1 Insurance companiesare becoming very alert again with the various war risks. One change is reported ; Mr. H. Olden, secretary of the Motor Union Insurance Co., Ltd., leaves at the end of this month, and takes up an important position with Lloyd's.
White trucks are handled by Mr. F. A. KingChurch, the chairman of White-Coleman Motors, Ltd., in the continued absence of Mr. F. Coleman at the Front. That gentleman paid a lightning visit to England recently. He is hoping to findhis way
out shortly to the Dardanelles.
Tags
Organisations
:
Institute of Municipal Treasurers and Accountants
,
London National Guard
,
London County Council
,
Fund for the A.S.C.
,
Incorporated Municipal Electrical Association on Victoria Embankment
,
St. Marylebone Council
,
War Office
,
organizatiOn of the City
,
French Army
,
Poplar Borough Council
,
Electric Vehicle Committee
,
Isleworth Council