Leyland Bus, Unipart — sold
17th January 1987
Page 7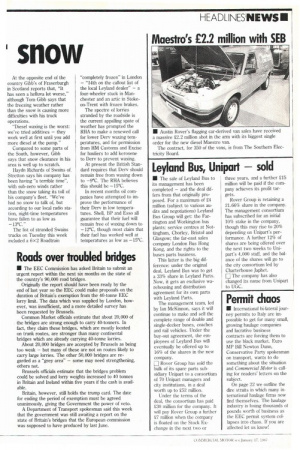 Page 7, 17th January 1987 —
Leyland Bus, Unipart — sold
Close
• The sale of Leyland Bus to its management has been completed — and the deal differs from that originally proposed. For a maximum of itt million (subject to various audits and negotiations) Leyland Bus Group will get: the Farrington and Workington bus plants; service centres at Nottingham, Chorley, Bristol and Glasgow; the far-east sales company London Bus Hong Kong, and the rights to the buses parts business.
This latter is the big difference: under the original deal, Leyland Bus was to get a 33% share in Leyland Parts. Now, it gets an exclusive warehousing and distribution agreement for its own parts with Leyland Parts.
The management team, led by Ian McKinnon, says it will continue to make and sell the complete range of double and single-decker buses, coaches and rail vehicles. Under the buy-out agreement, the employees of Leyland Bus will eventually he offered up to 1.6% of the shares in the new company.
0 Rover Group has sold the bulk of its spare parts subsidiary Unipart to a consortium of 70 Unipart managers and city institutions, in a deal worth up to £52 million.
Under the terms of the deal, the consortium has paid £30 million for the company. It will pay Rover Group a further .E7 million when the company is floated on the Stock Exchange in the next two or three years, and a further 15 million will be paid if the company achieves its profit targets.
Rover Group is retaining a 21.66% share in the company. The management consortium has subscribed for an initial 10% stake in the company, though this may rise to 20% depending on Unipart's performance. A further 12% of shares are being offered over the next two weeks to Unipart's 4,000 staff, and the balance of the shares will go to the city consortium led by Charterhouse Japhet.
[]The company has also changed its name from Unipart to UGC.